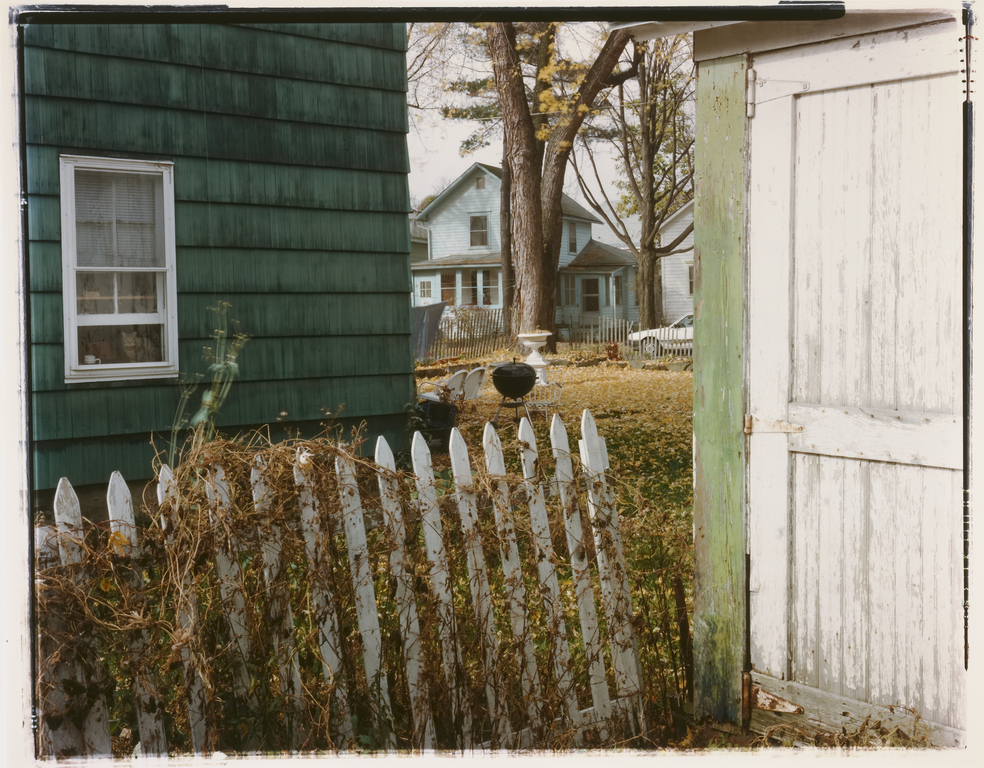 Cascadilla St. Cat, Ithaca, New York

Rhea Garen (American, born Germany, 1959) 38.1 x 47 cm (15 x 18 1/2 in.) 98.XM.211.1
Not currently on view
Title:
Cascadilla St. Cat, Ithaca, New York
Place:
Ithaca, New York, United States (Place created)

Dimensions:
38.1 x 47 cm (15 x 18 1/2 in.)
Credit Line:
Gift of Nancy and Bruce Berman
The attentive gaze of a cat sitting in a window confronts the viewer over windblown tendrils on a neglected picket fence. Strong vertical architectural elements frame the view and draw attention to everyday backyard objects: a barbecue, patio chairs, and a birdbath. Integrating multiple textures and angles into a unified whole, Rhea Garen makes her landscape into a form of meditation. Garen titled the image Cascadilla Street Cat,suggesting that a living creature is a more important indicator of a neighbor's life than backyard paraphernalia.
- 1998
Nancy and Bruce Berman Los Angeles, CA, U.S.
William Eggleston and the Color Tradition (October 26, 1999 to January 30, 2000)
The J. Paul Getty Museum at the Getty Center (Los Angeles), October 26, 1999 to January 30, 2000
Where We Live: Photographs of America from the Berman Collection (October 24, 2006 to February 25, 2007) (69)
The J. Paul Getty Museum at the Getty Center (Los Angeles), October 24, 2006 to February 25, 2007
---