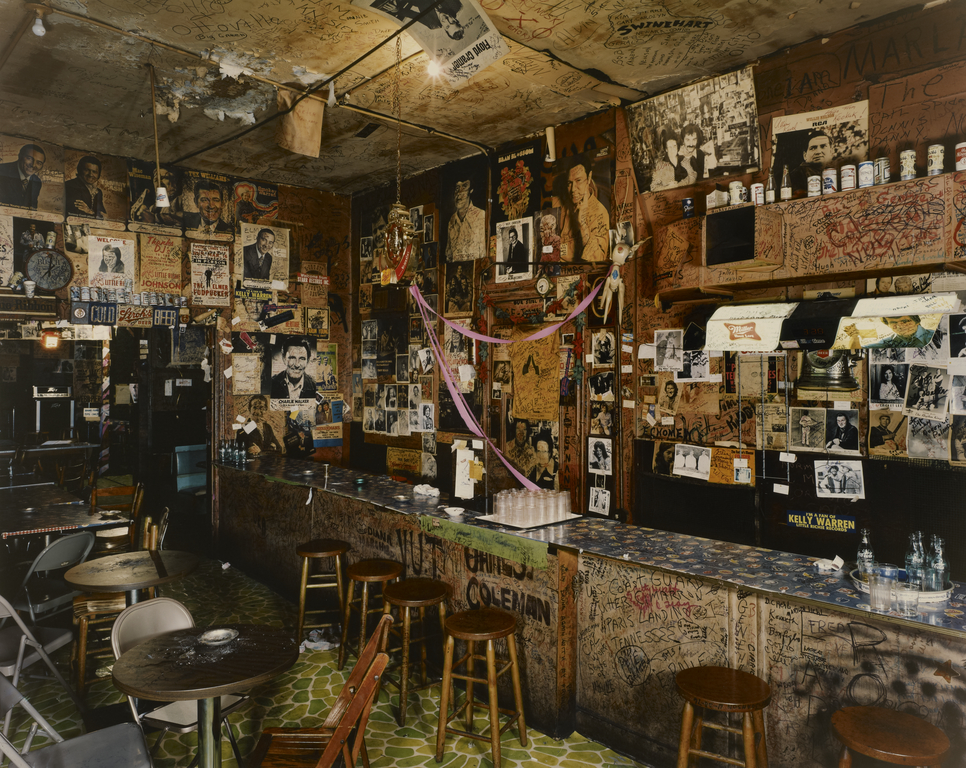 Tootsie's Orchid Lounge, Upstairs Bar, Nashville, Tennessee

Jim Dow (American, born 1942) 40.6 × 51.3 cm (16 × 20 3/16 in.) 98.XM.207.25
Not currently on view
Title:
Tootsie's Orchid Lounge, Upstairs Bar, Nashville, Tennessee
Place:
Nashville, Tennessee, United States (Place created)

Date:
negative 1977; print July 1995
Dimensions:
40.6 × 51.3 cm (16 × 20 3/16 in.)
Credit Line:
Gift of Nancy and Bruce Berman
The upstairs room at Tootsie's Orchid Lounge in Nashville, Tennessee, is a cluttered and collective expression of memories and dreams scratched into surfaces or fading in frames. Papered with headshots, bumper stickers, record albums, and posters, almost every surface--including the ceiling, a clock, a t-shirt, and some beer cans--is inscribed with messages. A "connoisseur of the vernacular," photographer Jim Dow seeks out rare places that manage to retain their regional flavor and originality while resisting mass cultural homogenization.
- 1998
Nancy and Bruce Berman Los Angeles, CA, U.S.
William Eggleston and the Color Tradition (October 26, 1999 to January 30, 2000)
The J. Paul Getty Museum at the Getty Center (Los Angeles), October 26, 1999 to January 30, 2000
Where We Live: Photographs of America from the Berman Collection (October 24, 2006 to February 25, 2007) (133)
The J. Paul Getty Museum at the Getty Center (Los Angeles), October 24, 2006 to February 25, 2007
---