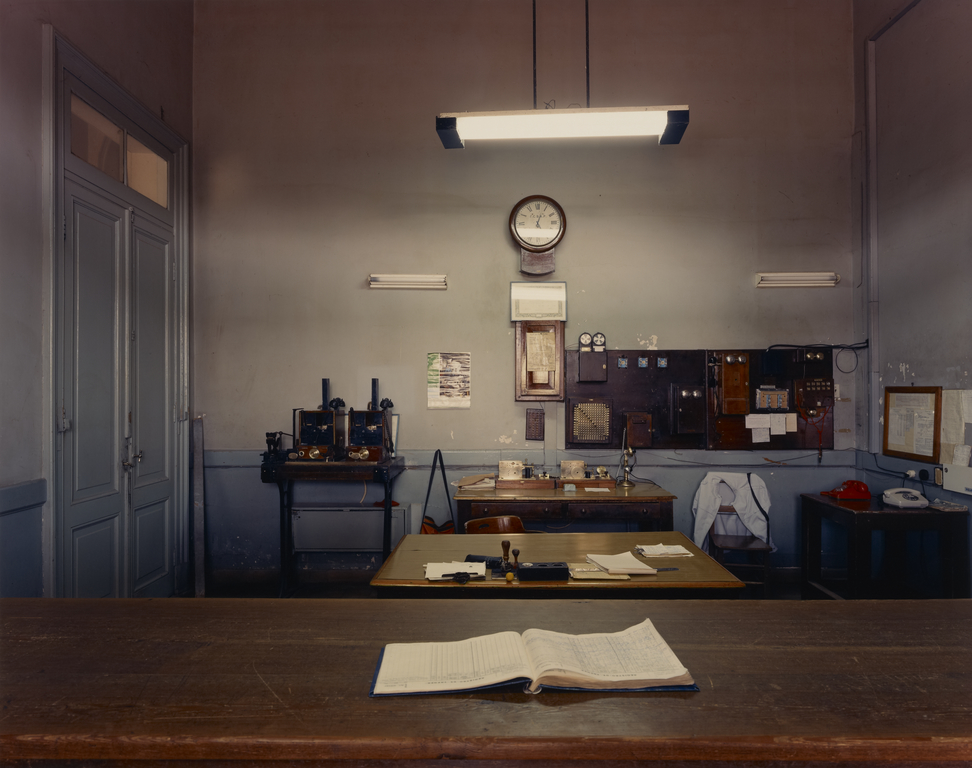 Telegraph Office at Main Railroad Station, San Luis, Argentina

Jim Dow (American, born 1942) 40.6 × 51.2 cm (16 × 20 3/16 in.) 98.XM.207.22
Not currently on view
Title:
Telegraph Office at Main Railroad Station, San Luis, Argentina
Place:
San Luis, Argentina (Place created)

Date:
negative 1988; print 1996
Dimensions:
40.6 × 51.2 cm (16 × 20 3/16 in.)
Credit Line:
Gift of Nancy and Bruce Berman
The old-fashioned telegraph equipment, quartz clock, and bound ledger notebook in this railroad office suggest that this photograph was made long before the era of fax machines and computers, yet Jim Dow photographed the scene in 1988. Though an open ledger and a white coat casually hanging on a chair imply someone's recent presence, and unexpected departure, the vacant scene is replete with mystery. The image lacks any obvious connection to a particular place or to the railroad; the telegraph and clock, however, evoke the railroad's legacy as a driving force in the development of long distance communication and standardized time.
- 1998
Nancy and Bruce Berman Los Angeles, CA, U.S.
Railroad Vision (March 3 to June 23, 2002)
The J. Paul Getty Museum at the Getty Center (Los Angeles), March 5 to June 23, 2002
---