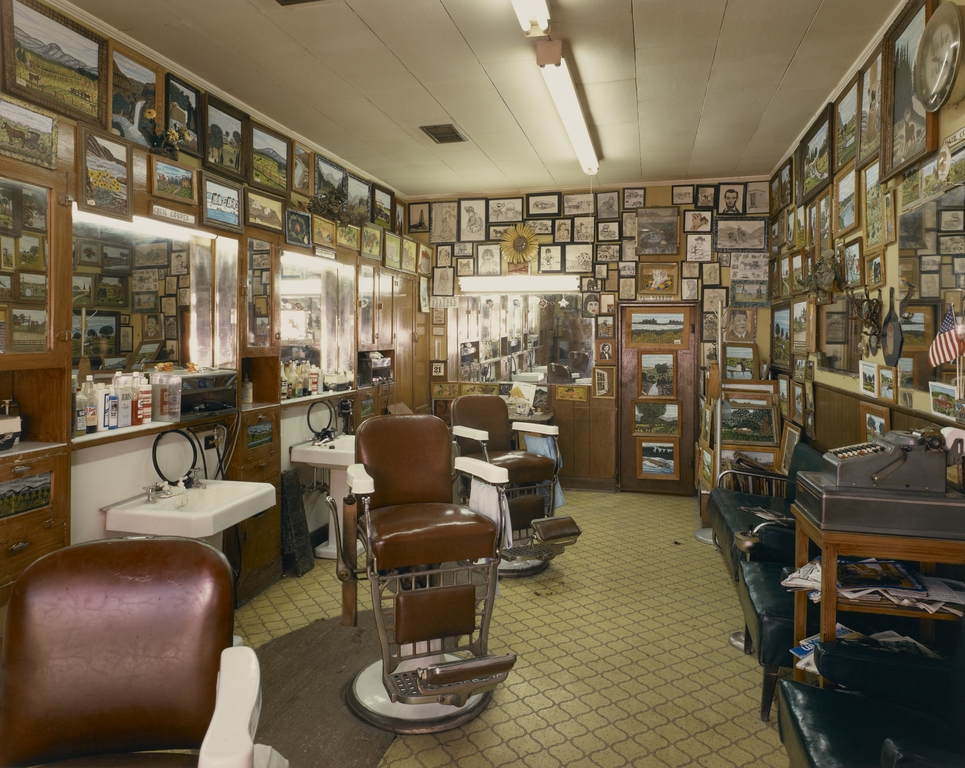 Cactus Barbershop, Big Spring, Texas

Jim Dow (American, born 1942) 40.5 × 51.1 cm (15 15/16 × 20 1/8 in.) 98.XM.207.5
Not currently on view
Title:
Cactus Barbershop, Big Spring, Texas
Place:
Big Spring, Texas, United States (Place Created)

Date:
negative 1980; print January 1994
Dimensions:
40.5 × 51.1 cm (15 15/16 × 20 1/8 in.)
Credit Line:
Gift of Nancy and Bruce Berman
Object Description
Describing himself as a "butterfly collector in search of the perfect specimen," Jim Dow obsessively captures the built landscape with his camera. Here he views the meticulously decorated interior of a small-town Texas barbershop. In addition to the large mirrors necessary for the business, every inch of wall space is covered with landscapes and portraits seemingly created by one person. Handwritten scraps of paper with prices are tucked into frames; fluorescent lighting illuminates the scene. Nostalgic in its old-fashioned subject matter, this image is immediate in its familiarity, depicting a quintessentially American mainstay of community and locus of storytelling and gossip. Barbers' chairs face forward as if inviting the viewer to come in and sit. The precise detail in Dow's scene--made with a large format camera--heightens the seductive appeal of many pictures within a picture.
Exhibitions
William Eggleston and the Color Tradition (October 26, 1999 to January 30, 2000)
The J. Paul Getty Museum at the Getty Center (Los Angeles), October 26, 1999 to January 30, 2000
Where We Live: Photographs of America from the Berman Collection (October 24, 2006 to February 25, 2007)
The J. Paul Getty Museum at the Getty Center (Los Angeles), October 24, 2006 to February 25, 2007
---