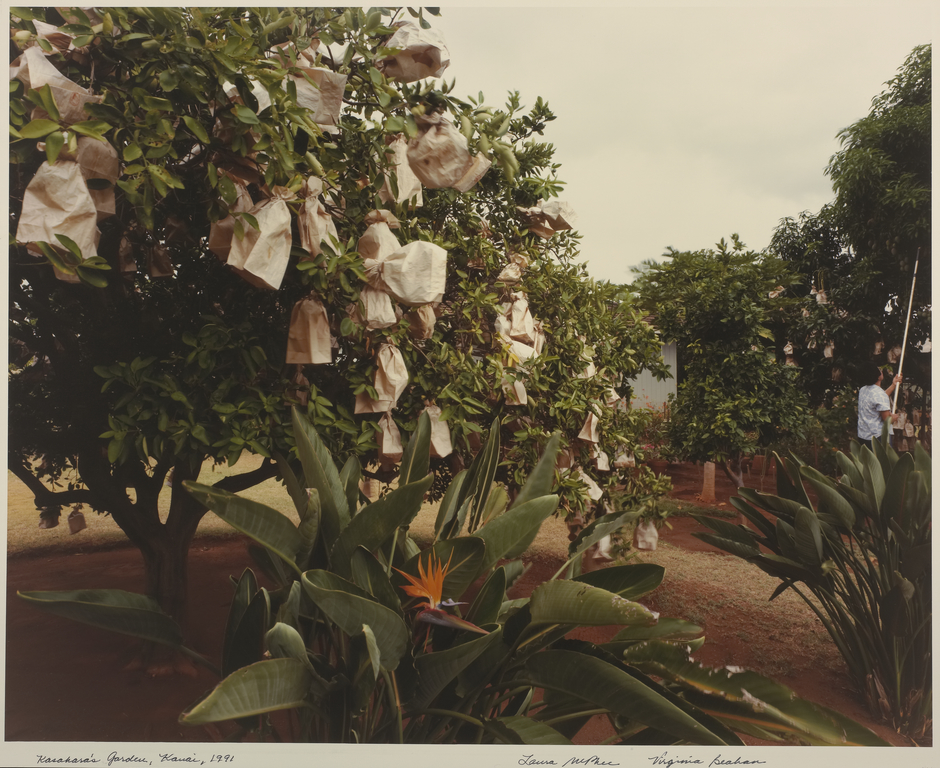 Kasahara's Garden, Kauai

Virginia Beahan (American, born 1946)Laura McPhee (American, born 1958) 47 x 66.7 cm (18 1/2 x 26 1/4 in.) 98.XM.200.5
Not currently on view
Place:
Kauai, Hawaii, United States (Place created)

Dimensions:
47 x 66.7 cm (18 1/2 x 26 1/4 in.)
Copyright:
© Virginia Beahan and Laura McPhee
Credit Line:
Gift of Nancy and Bruce Berman
In Kasahara's garden in Waimea on the Hawaiian island of Kauai, improbable brown, paper bag jackets protect mangos and navel oranges from insects. In the foreground, a lone bird of paradise insinuates its vibrant presence amidst a sea of lush foliage, while on the right a barely noticeable man tends the fragile harvest of another tree. The photographers Virginia Beahan and Laura McPhee neither condemn nor praise the manipulation of the landscape; they simply see the interaction between humankind and nature as a necessity of life.
- 1998
Nancy and Bruce Berman Los Angeles, CA, U.S.
William Eggleston and the Color Tradition (October 26, 1999 to January 30, 2000)
The J. Paul Getty Museum at the Getty Center (Los Angeles), October 26, 1999 to January 30, 2000
Where We Live: Photographs of America from the Berman Collection (October 24, 2006 to February 25, 2007) (63)
The J. Paul Getty Museum at the Getty Center (Los Angeles), October 24, 2006 to February 25, 2007
---