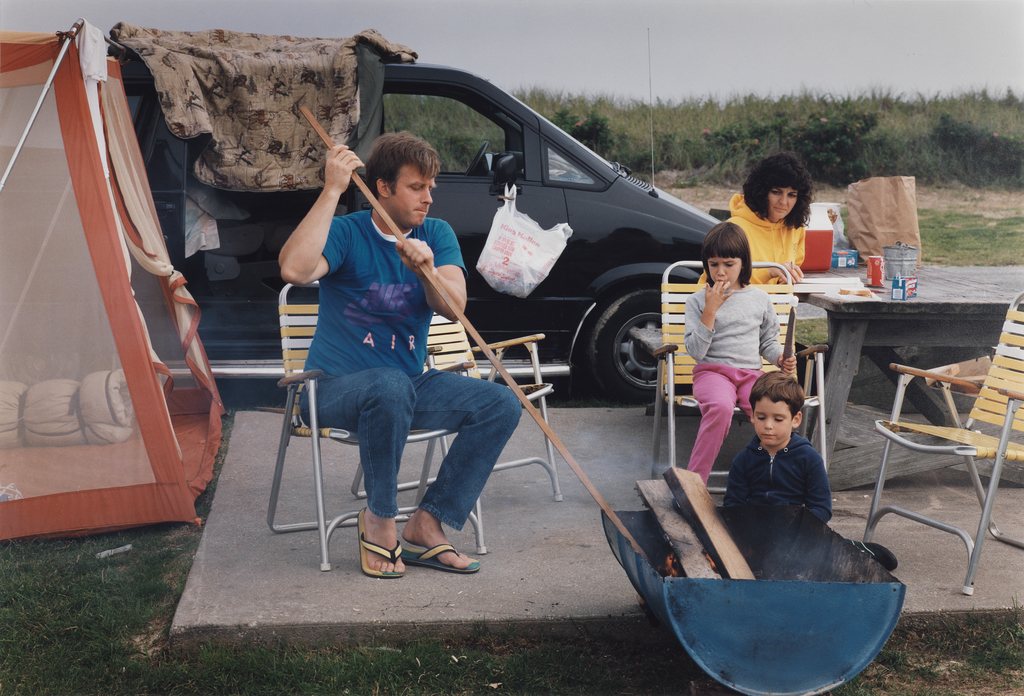 Hither Hills State Park, Montauk, New York

Adam Bartos (American, born 1953) 49.1 x 72.4 cm (19 5/16 x 28 1/2 in.) 98.XM.199.5
Not currently on view
Title:
Hither Hills State Park, Montauk, New York
Place:
Montauk, New York, United States (Place created)

Dimensions:
49.1 x 72.4 cm (19 5/16 x 28 1/2 in.)
Credit Line:
Gift of Nancy and Bruce Berman
This family conspicuously inhabits the human-made space within the image, carefully constructing as much of their world as will fit on the poured slab of concrete. Bringing the trappings of normal domestic life--chairs, table, tablecloths--into the "wild" and tending the campfire from the comfort of one's lawn chair exposes the incongruity of "car camping." Adam Bartos made this photograph at the recreational campgrounds of Hither Hills State Park in Montauk, Long Island, as part of an early 1990s series for the photography magazine Double Take, published in 1997. Taken in late afternoon over the course of several years, these evocative photographs document the ritual of the obligatory family vacation.
- 1998
Nancy and Bruce Berman Los Angeles, CA, U.S.
William Eggleston and the Color Tradition (October 26, 1999 to January 30, 2000)
The J. Paul Getty Museum at the Getty Center (Los Angeles), October 26, 1999 to January 30, 2000
Where We Live: Photographs of America from the Berman Collection (October 24, 2006 to February 25, 2007) (30)
The J. Paul Getty Museum at the Getty Center (Los Angeles), October 24, 2006 to February 25, 2007
---