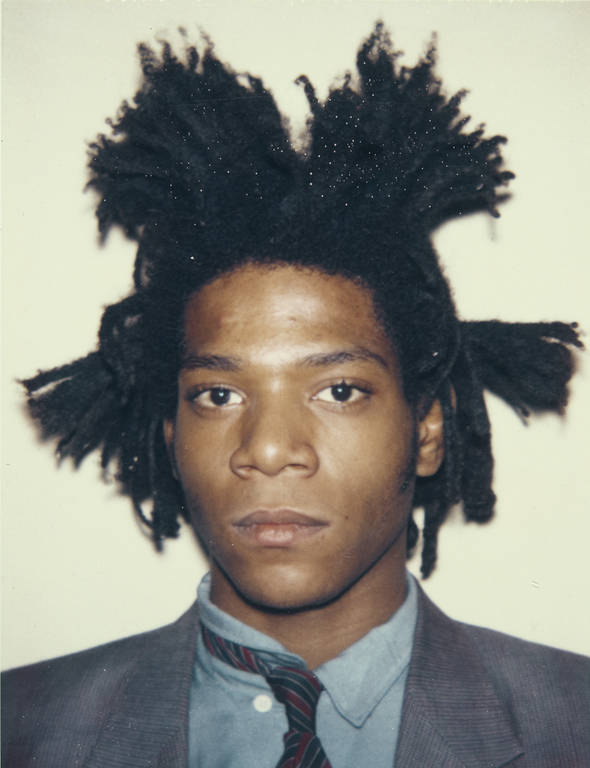 [Portrait of Jean-Michel Basquiat]

Andy Warhol (American, 1928 - 1987) 9.5 x 7.3 cm (3 3/4 x 2 7/8 in.) 98.XM.168.6
Not currently on view
Title:
[Portrait of Jean-Michel Basquiat]
Medium:
Polaroid dye diffusion print
Dimensions:
9.5 x 7.3 cm (3 3/4 x 2 7/8 in.)
Copyright:
© The Andy Warhol Foundation for the Visual Arts, Inc.
He's the kid who...used to sit on the sidewalk in Greenwich Village and paint T-shirts, and I'd give him $10 here and there...now he's on Easy Street. He's got a great loft on Christie Street. He was a middle-class Brooklyn kid--I mean, he went to college and things--and he was trying to be like that, painting in the Greenwich Village....I took a Polaroid and he went home and within two hours a painting was back, still wet of him and me together. And I mean, just getting to Christie Street must have taken an hour. He told me his assistant painted it.

Thus Andy Warhol described his first impressions of Jean-Michel Basquiat. Warhol made this portrait in the fall of 1982, when he was first formally introduced to the newly famous twenty-one-year-old painter. Warhol was one of Basquiat's heroes; the young star, in turn, represented for Warhol the creative sexual energy of the 1960s. The two prolific artists carried on an intense friendship in the mid-eighties, culminating in an artistic collaboration. Basquiat died of a drug overdose before he was twenty-eight, fulfilling his belief that "the true path to creativity is to burn out."
- 1998
The Andy Warhol Foundation for the Visual Arts New York, NY, US
Nadar/Warhol: Paris/New York (July 20, 1999 to May 28, 2000)
The J. Paul Getty Museum at the Getty Center (Los Angeles), July 20 to October 10, 1999
The Andy Warhol Museum (Pittsburgh), November 6, 1999 to January 30, 2000
The Baltimore Museum of Art (Baltimore), March 12 to May 28, 2000
Ten Years In Focus: The Artist and the Camera (March 18 to August 10, 2008)
The J. Paul Getty Museum at the Getty Center (Los Angeles), March 18 to August 10, 2008
Portraits of Renown: Photography and the Cult of Celebrity (April 3 to September 2, 2012)
The J. Paul Getty Museum at the Getty Center (Los Angeles), April 3 to September 2, 2012
Baldwin, Gordon, and Judith Keller. Nadar Warhol: Paris New York: Photography and Fame. Introduction by Richard Brilliant. (Los Angeles: J. Paul Getty Museum, 1999)
---