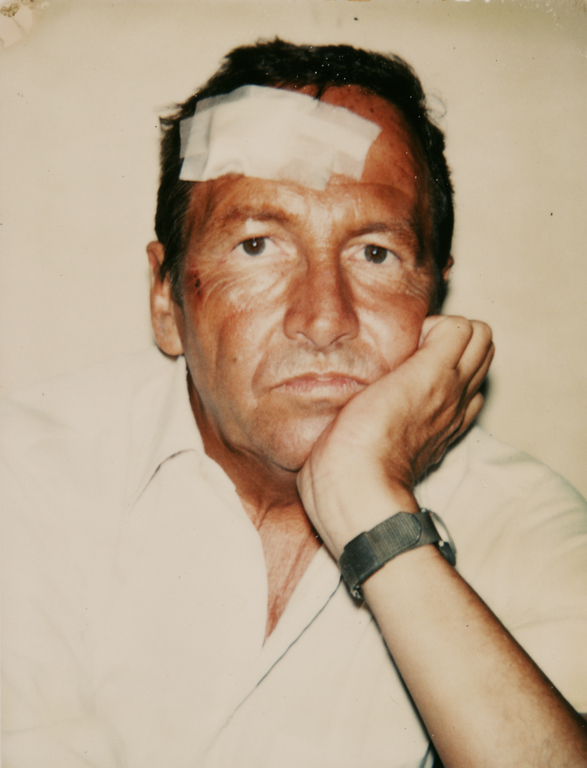 Portrait of Robert Rauschenberg
Not currently on view
Title:
Portrait of Robert Rauschenberg
Medium:
Polaroid dye diffusion print
Dimensions:
9.5 × 7.3 cm (3 3/4 × 2 7/8 in.)
Copyright:
© The Andy Warhol Foundation for the Visual Arts, Inc.
Object Description
In Andy Warhol's depiction of his old friend Robert Rauschenberg as the wounded artist, the gauze and bandages add layers to the portrait in a way similar to Rauschenberg's own layered working methods. He and Warhol met in 1960 and two years later got together at Warhol's studio in a session that provided inspiration for both artists. Rauschenberg discovered the silkscreen process that Warhol was already using to transfer photographic images to canvas, and Warhol decided to do a series of paintings based on family snapshots of Rauschenberg, taking him as his first non-celebrity Pop subject. Through large canvases that repeated his portrait as many as twenty-five times, Warhol made Rauschenberg's face famous.

A passion for photographs, including those they made themselves, was at the center of artmaking for both Warhol and Rauschenberg. Rauschenberg's confidence in photographs as major gallery pieces may have reassured Warhol that he should begin exhibiting some of the hundreds of photographs he had made in documenting his own life.
Exhibitions
Nadar/Warhol: Paris/New York (July 20, 1999 to May 28, 2000)
The J. Paul Getty Museum at the Getty Center (Los Angeles), July 20 to October 10, 1999
The Andy Warhol Museum (Pittsburgh), November 6, 1999 to January 30, 2000
The Baltimore Museum of Art (Baltimore), March 12 to May 28, 2000
Ten Years In Focus: The Artist and the Camera (March 18 to August 10, 2008)
The J. Paul Getty Museum at the Getty Center (Los Angeles), March 18 to August 10, 2008
Bibliography
Baldwin, Gordon, and Judith Keller. Nadar Warhol: Paris New York: Photography and Fame. Introduction by Richard Brilliant. (Los Angeles: J. Paul Getty Museum, 1999), p. 172.
---