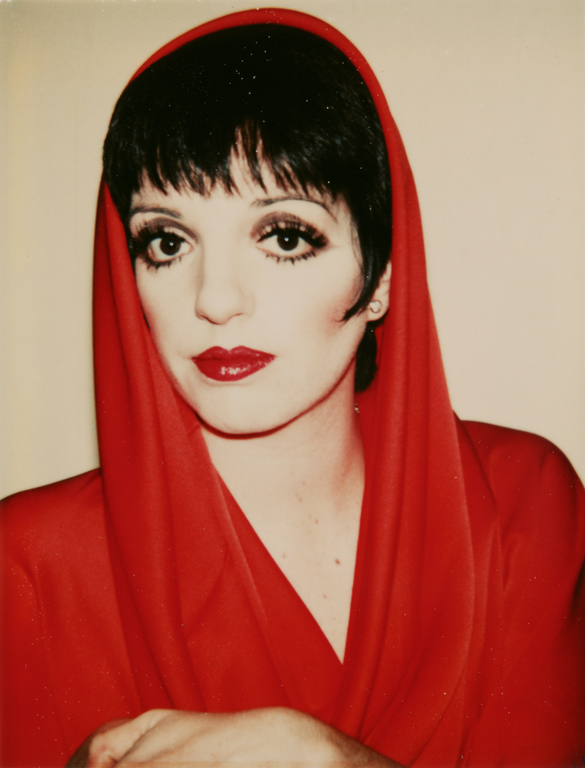 [Liza Minnelli]

Andy Warhol (American, 1928 - 1987) 9.5 x 7.3 cm (3 3/4 x 2 7/8 in.) 98.XM.168.4
Not currently on view
Medium:
Polaroid dye diffusion print
Dimensions:
9.5 x 7.3 cm (3 3/4 x 2 7/8 in.)
Copyright:
© The Andy Warhol Foundation for the Visual Arts, Inc.
In the late 1970s, Warhol painted portraits of Liza Minnelli based on his Polaroids. Minnelli, a Hollywood child who first appeared onscreen as a toddler, was an important part of Warhol's inner circle in the 1970s and 1980s. She had formidable show-business parents--singer-actress Judy Garland and director Vincente Minnelli--and achieved her own lead roles in stage productions only after performing with her mother and working as an apprentice on other musicals. In Minnelli Warhol found a powerfully iconic face with strong elements ready-made for the Polaroid. Her short black bangs, large dark eyes outlined with heavy makeup, and full lips painted a dark red stood out in the print even before they were transferred to silkscreen, which would simplify them even further. Warhol finally chose to paint from another print, rather than from this one. Perhaps he felt that the red-orange hooded dress gave the composition a somber, mourning quality unfit for the sitter's home. On the other hand, Warhol must have appreciated the simple lines and religious overtones of Minnelli's draped head and sad gaze. He portrayed her as an alluring celebrity while suggesting her private burdens.
- 1998
The Andy Warhol Foundation for the Visual Arts New York, NY, US
Nadar/Warhol: Paris/New York (July 20, 1999 to May 28, 2000)
The J. Paul Getty Museum at the Getty Center (Los Angeles), July 20 to October 10, 1999
The Andy Warhol Museum (Pittsburgh), November 6, 1999 to January 30, 2000
The Baltimore Museum of Art (Baltimore), March 12 to May 28, 2000
Portraits of Renown: Photography and the Cult of Celebrity (April 3 to September 2, 2012)
The J. Paul Getty Museum at the Getty Center (Los Angeles), April 3 to September 2, 2012
Baldwin, Gordon, and Judith Keller. Nadar Warhol: Paris New York: Photography and Fame. Introduction by Richard Brilliant. (Los Angeles: J. Paul Getty Museum, 1999)
---