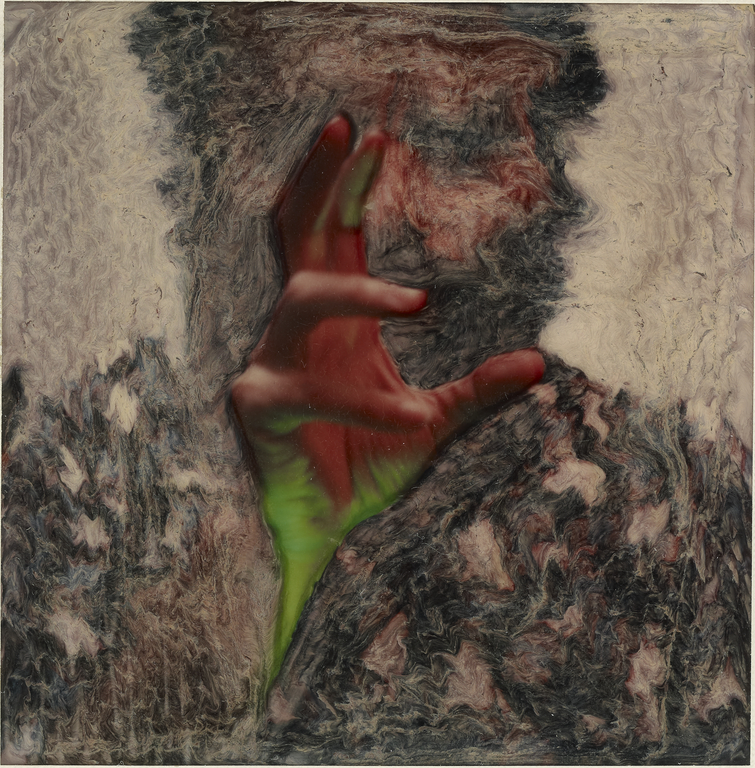 Photo-Transformation, November 22, 1973

Lucas Samaras (American, born Greece, 1936) 7.6 x 7.6 cm (3 x 3 in.) 98.XM.20.12
Not currently on view
Title:
Photo-Transformation, November 22, 1973
Place:
United States (Place created)

Medium:
Polaroid SX-70 dye diffusion print
In this self-portrait, Lucas Samaras reaches out as if trapped in the photograph. In sharp contrast to the indistinct background of his upper body, his crisply defined fingers curl forward, as if he is searching for a way to transcend a two-dimensional world of his own creation. An overriding sense of claustrophobia defines this image, underscored by the small scale of the Polaroid print. Samaras, a hermit-like person, made many Polaroid self-portraits like this in the 1970s as a means of observing himself. The images are open to a wide range of interpretation. Here, Samaras may have tried to convey the sense of isolation he experiences as a reclusive person.
- 1998
PaceWildenstein Beverly Hills, CA, U.S., founded 1995 - closed 1999
Tradition and Innovation: Recent Additions to the Photographs Collection (June 20 to October 8, 2000)
The J. Paul Getty Museum at the Getty Center (Los Angeles), June 20 to October 8, 2000
Unrepentant Ego: The Self-Portraits of Lucas Samaras (November 13, 2003 to February 8, 2004)
Whitney Museum of American Art (New York), November 13, 2003 to February 8, 2004
In Focus: Making a Scene (June 30 to October 18, 2009)
The J. Paul Getty Museum at the Getty Center (Los Angeles), June 30 to October 18, 2009
Images of the Artist (November 15, 2011 to February 12, 2012)
The J. Paul Getty Museum at the Getty Center (Los Angeles), November 15, 2011 to February 12, 2012
Color! (October 5, 2013 to March 23, 2014)
The Amon Carter Museum of American Art (Fort Worth), October 5, 2013 to January 5, 2014
---