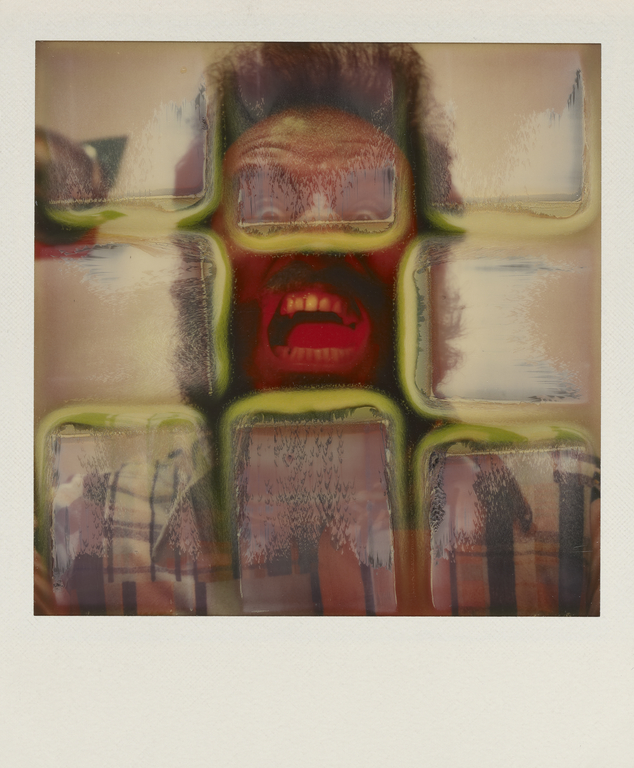 Photo-Transformation, November 7, 1973

Lucas Samaras (American, born Greece, 1936) 7.9 × 7.9 cm (3 1/8 × 3 1/8 in.) 98.XM.20.10
Not currently on view
Title:
Photo-Transformation, November 7, 1973
Place:
United States, North America (Place created)

Medium:
Polaroid SX-70 dye diffusion print
Dimensions:
7.9 × 7.9 cm (3 1/8 × 3 1/8 in.)
What does Lucas Samaras reveal about himself in this Photo-Transformation? He created this self-portrait with a Polaroid camera, but he did not let the picture develop on its own. Samaras altered the print by manipulating the dyes, slightly obscuring his head and shoulders. The viewer's attention focuses on his gaping mouth, which suggests a long, desperate scream. Perhaps Samaras was trying to convey that he is frightened. Is he crying out in despair, or pain, or rage? Or is he crying out at all? This portrait seems to present more questions than answers, somewhat like the artist himself.
- 1998
PaceWildenstein Beverly Hills, CA, U.S., founded 1995 - closed 1999
Tradition and Innovation: Recent Additions to the Photographs Collection (June 20 to October 8, 2000)
The J. Paul Getty Museum at the Getty Center (Los Angeles), June 20 to October 8, 2000
The Polaroid Years: Instant Photography and Experimentation (April 12, 2013 to March 23, 2014)
Vassar College Francis Loeb Art Center (Poughkeepsie), April 12 to June 30, 2013
Norton Museum of Art (West Palm Beach), December 19, 2013 to March 23, 2014
---