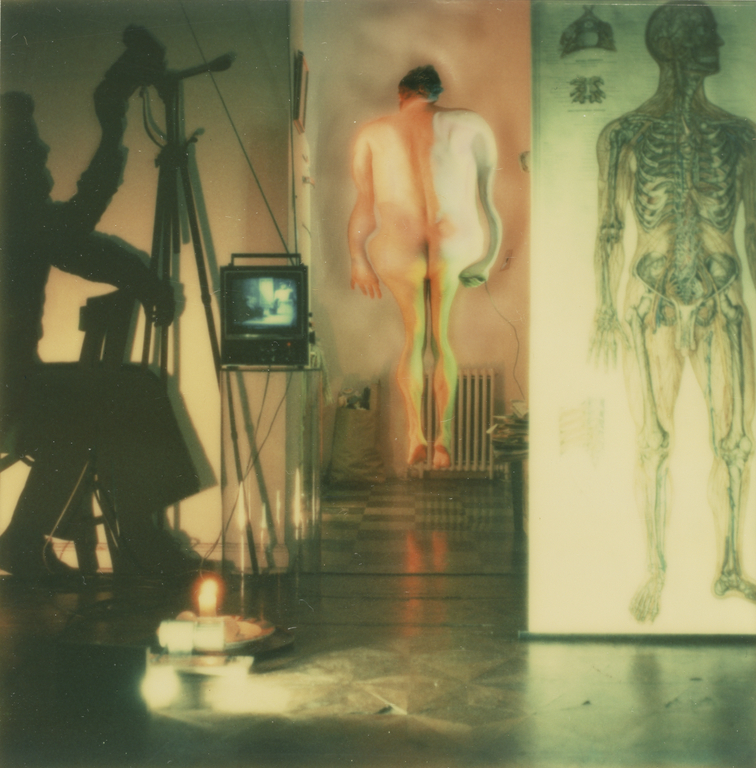 Photo-Transformation, July 6, 1975

Lucas Samaras (American, born Greece, 1936) 7.6 x 7.6 cm (3 x 3 in.) 98.XM.20.5
Not currently on view
Title:
Photo-Transformation, July 6, 1975
Place:
United States (Place created)

Medium:
Polaroid SX-70 dye diffusion print
In this self-portrait Lucas Samaras explicitly portrays himself in both roles, as artist and as subject. On the left, he appears dressed and seated behind the camera, in the guise of an artist. In the center, as the subject, his distorted, naked body floats above a black-and-white checkerboard floor. A picture of a life-size skeletal human is the third figure in the composition. Samaras's self-portraits are psychologically complex images that challenge viewers and defy any single interpretation. One analysis of this image could be that Samaras is asking the audience to recognize him as an artist and as an individual concerned with both interior and exterior dimensions of mind, body, and soul.
- 1998
PaceWildenstein Beverly Hills, CA, U.S., founded 1995 - closed 1999
Tradition and Innovation: Recent Additions to the Photographs Collection (June 20 to October 8, 2000)
The J. Paul Getty Museum at the Getty Center (Los Angeles), June 20 to October 8, 2000
In Focus: Making a Scene (June 30 to October 18, 2009)
The J. Paul Getty Museum at the Getty Center (Los Angeles), June 30 to October 18, 2009
---