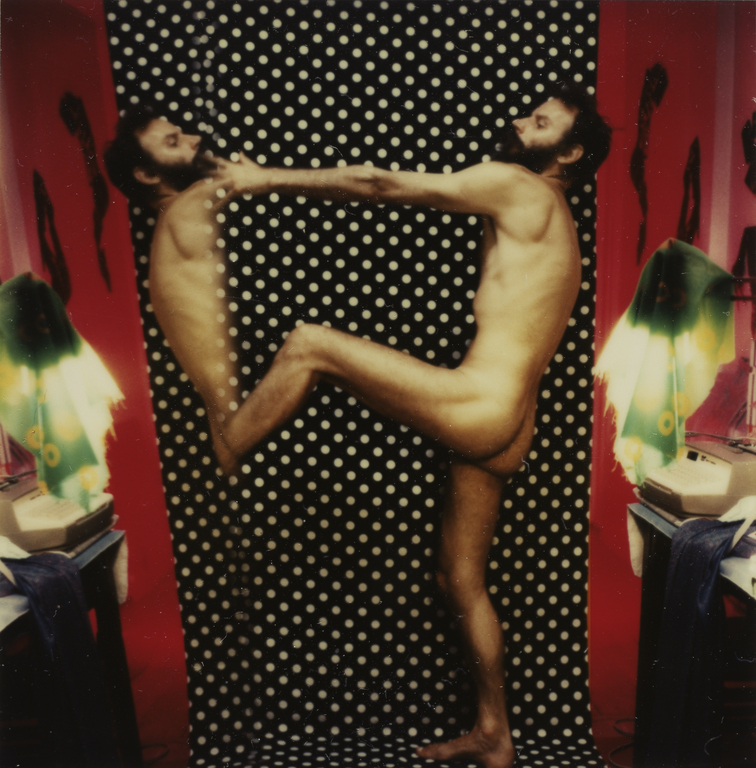 Photo-Transformation, September 9, 1976

Lucas Samaras (American, born Greece, 1936) 7.6 x 7.6 cm (3 x 3 in.) 98.XM.20.2
Not currently on view
Title:
Photo-Transformation, September 9, 1976
Place:
United States (Place created)

Medium:
Polaroid SX-70 dye diffusion print
As if engaging in a tug-of-war with himself, Lucas Samaras confronts and struggles with his own reflection in this self-portrait. The leg-less reflection is incomplete, however, giving the impression of a deformed adversary. A monochromatic polka-dot background and a vibrant green and red border act as a stage for this dramatic struggle.

Samaras's Photo-Transformations, which he made in the 1970s as a means to examine various facets of himself, could be understood as visual manifestations of internal conflict. They are complex psychological investigations that, according to at least one critic, illustrate one person's efforts toward spiritual healing.
- 1998
PaceWildenstein Beverly Hills, CA, U.S., founded 1995 - closed 1999
Tradition and Innovation: Recent Additions to the Photographs Collection (June 20 to October 8, 2000)
The J. Paul Getty Museum at the Getty Center (Los Angeles), June 20 to October 8, 2000
Unrepentant Ego: The Self-Portraits of Lucas Samaras (November 13, 2003 to February 8, 2004)
Whitney Museum of American Art (New York), November 13, 2003 to February 8, 2004
In Focus: Making a Scene (June 30 to October 18, 2009)
The J. Paul Getty Museum at the Getty Center (Los Angeles), June 30 to October 18, 2009
---