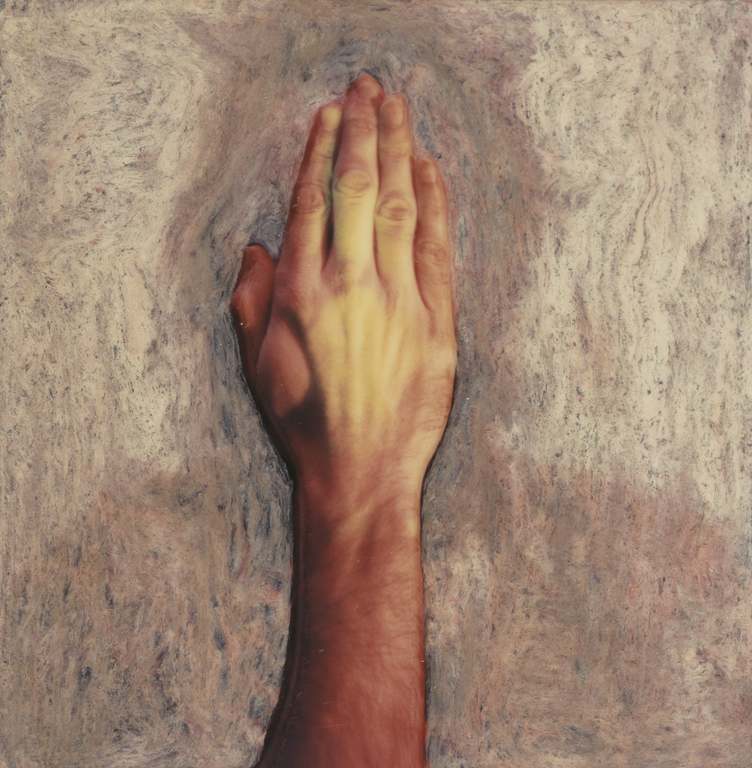 Photo-Transformation, December 17, 1973

Lucas Samaras (American, born Greece, 1936) 7.6 x 7.6 cm (3 x 3 in.) 98.XM.20.1
Not currently on view
Title:
Photo-Transformation, December 17, 1973
Place:
United States (Place created)

Medium:
Polaroid SX-70 dye diffusion print
Though cut off at the edge of the composition, Lucas Samaras's forearm is perfectly centered over the obscure silhouette of his upper body in this self-portrait, As if the artist-subject was trying to say, "Don't look at me!" Samaras denies the viewers the ability to familiarize themselves with his facial features and instead emphasizes his highly detailed hand, a vital tool for making art. Thus his hand takes the place of his face and becomes a symbol of himself.

Samaras repeatedly focused attention on himself in his Photo-Transformations series. He often extensively altered these Polaroid self-portraits by manipulating the surface emulsions while they were fresh from the camera and still malleable.
- 1998
PaceWildenstein Beverly Hills, CA, U.S., founded 1995 - closed 1999
Tradition and Innovation: Recent Additions to the Photographs Collection (June 20 to October 8, 2000)
The J. Paul Getty Museum at the Getty Center (Los Angeles), June 20 to October 8, 2000
---