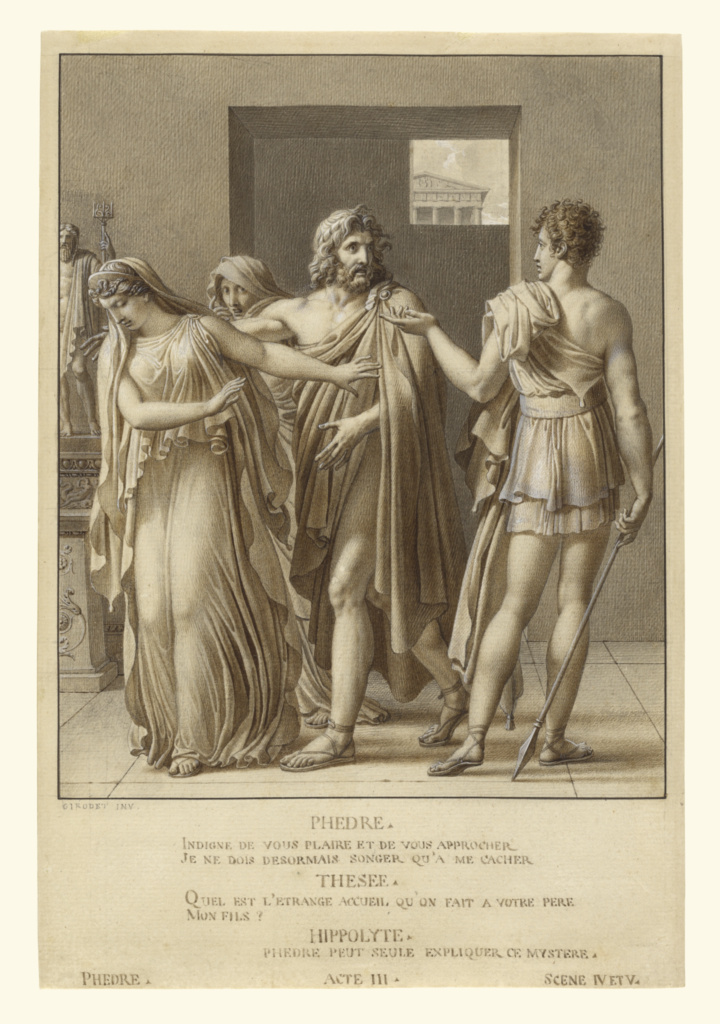 Open Content images tend to be large in file-size. To avoid potential data charges from your carrier, we recommend making sure your device is connected to a Wi-Fi network before downloading.
This image is available for download, without charge, under the Getty's Open Content Program.
Not currently on view
Title:
Phaedra Rejecting the Embraces of Theseus
Medium:
Pencil, pen and brown ink, brown wash, heightened with white gouache
Dimensions:
33.7 x 22.5 cm (13 1/4 x 8 7/8 in.)
Returning home, the bearded Theseus reaches out to greet his wife Phaedra, who shies away from his embrace. Surprised at this cold reception, Theseus looks inquiringly at his son Hippolytus. During his absence, Phaedra had fallen in love with her stepson, and she is now unable to meet Theseus's eyes. The dialogue underneath the picture recounts the verbal exchange. Phaedra says, "I am unworthy of pleasing you or being near you. I can henceforth only hide myself from you." Theseus then turns to Hippolytus, asking, "What is this strange welcome you give your father?" Hippolytus replies, "Only Phaedra can explain the mystery."

Anne-Louis Girodet de Roucy-Trioson made this highly finished study as an illustration for a series of deluxe editions of the plays of Racine, a French dramatist from the 1600s. The publisher chose seven artists to illustrate the set, which was dedicated to Napoleon, and retained the original drawings, including this one, after the engravings were made.

Girodet displayed such typically Neoclassical characteristics as firm, linear drawing; carefully shaded three-dimensional forms; and a static, ordered composition. Appropriately, his monumental figures--especially the central figure of Theseus silhouetted in front of an open doorway--seem more like Greek statues than living actors.
1810
Pierre Didot the Elder (Paris), [lot 679]
Private Collection (United States)
Salon An XII (1804) (212)
Salon, Palais du Louvre (Paris), 1804
French Drawings: Neo-Classicism (February 20 to March 27, 1975) (50)
Heim Gallery (London), February 20 to March 27, 1975
French Drawings 1760-1880 (April 17 to May 23, 1985) (11)
P & D Colnaghi & Co. Ltd. (New York), April 17 to May 23, 1985
Drawings from the J. Paul Getty Museum (May 24 to August 8, 1993) (49)
The Metropolitan Museum of Art, (New York), May 24 to August 8, 1993
Drawings from the J. Paul Getty Museum (October 29, 1993 to January 23, 1994) (107)
Royal Academy of Arts (London), October 29, 1993 to January 23, 1994
Classicism and Neoclassicism in French Drawing, 1600-1860 (October 25, 1994 to January 8, 1995) (107)
The J. Paul Getty Museum, (Malibu), October 25, 1994 to January 8, 1995
Raphael and his Influence Across the Centuries (October 31, 2000 to January 7, 2001) (107)
The J. Paul Getty Museum at the Getty Center, (Los Angeles), October 31, 2000 to January 7, 2001
French Drawings from the Age of Greuze (September 10 to December 1, 2002) (107)
The J. Paul Getty Museum at the Getty Center, (Los Angeles), September 10 to December 1, 2002
A Revolutionary Age: Drawing in Europe, 1770-1820 (January 18 to May 1, 2005) (107)
The J. Paul Getty Museum at the Getty Center, (Los Angeles), January 18 to May 1, 2005
Anne-Louis Girodet de Roucy-Trioson (1767-1824) (September 19, 2005 to January 21, 2007) (114; catalogue by S. Bellenger et. al.)
The Art Institute of Chicago, February 11 to April 30, 2006
Musée des beaux-arts de Montréal, October 26, 2006 to January 21, 2007
Drawing the Classical Figure (December 23, 2008 to March 8, 2009) (114; catalogue by S. Bellenger et. al.)
The J. Paul Getty Museum at the Getty Center, (Los Angeles), December 23, 2008 to March 8, 2009
Recent Acquisitions in Context (January 11 to March 13, 2011) (114; catalogue by S. Bellenger et. al.)
The J. Paul Getty Museum at the Getty Center, (Los Angeles), January 11 to March 13, 2011
Gods and Heroes: European Drawings of Classical Mythology (November 19, 2013 to February 9, 2014) (114; catalogue by S. Bellenger et. al.)
The J. Paul Getty Museum at the Getty Center, (Los Angeles), November 19, 2013 to February 9, 2014
---