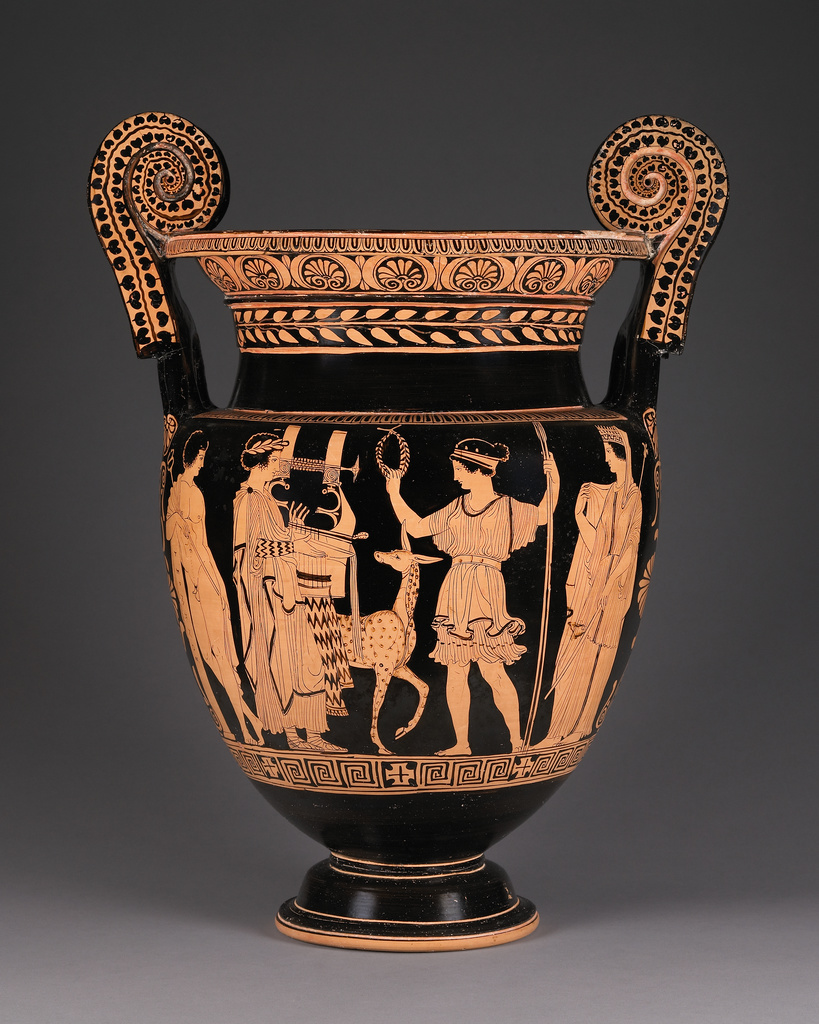 This image is available for download, without charge, under the Getty's Open Content Program.

Lucanian Red-Figure Volute Krater

Palermo Painter (Greek (Lucanian), active about 430 - about 400 B.C.) 56 × 34 cm (22 1/16 × 13 3/8 in.) 85.AE.101
Open Content images tend to be large in file-size. To avoid potential data charges from your carrier, we recommend making sure your device is connected to a Wi-Fi network before downloading.
Currently on view at: Getty Villa, Gallery 104, Gods and Goddesses
Title:
Lucanian Red-Figure Volute Krater
Artist/Maker:
Attributed to the Palermo Painter (Greek (Lucanian), active about 430 - about 400 B.C.)

Culture:
Greek (South Italian, Lucanian)
Place:
Lucania, South Italy (Place created)

Dimensions:
56 × 34 cm (22 1/16 × 13 3/8 in.)
A gathering of deities decorates the front of this red-figure volute-krater, made in a Greek colony in the region of Lucania in southern Italy. The twin gods Apollo and Artemis occupy the center of the scene. Apollo holds a kithara, denoting his role as god of music, and Artemis, the goddess of the hunt, is accompanied by her sacred deer. Their mother Leto stands at the right. On the left, the god Hermes leans on a pillar inscribed with his name, which represents either a boundary marker or a goalpost. Two pairs of youths stand conversing on the back of the vase.

The volute-krater was a large serving vessel used to mix wine and water at a symposium or drinking party. Large symposium vessels like this one began to be produced in the Greek colonies in Italy in the late 400s B.C. Before this time, the colonists had simply imported their fine pottery from Athens, but at this time local painted pottery workshops emerged. Proportionally few vases made in Lucania, the "toe" of Italy, have survived.
- 1985
Fritz Bürki & Son (Zurich, Switzerland), sold to the J. Paul Getty Museum, 1985.
"Acquisitions/1985." The J. Paul Getty Museum Journal 14 (1986), p. 193, no. 60.
Trendall, Arthur Dale. The Red-figured Vases of South Italy and Sicily. London and New York: Thames and Hudson, 1989, p. 21; fig. 20.
The J. Paul Getty Museum Handbook of the Collections. 3rd ed. (Malibu: J. Paul Getty Museum, 1991), p. 53.
Jentoft-Nilsen, Marit R., and Arthur Dale Trendall. Corpus Vasorum Antiquorum. The J. Paul Getty Museum 4 (USA 27). Malibu: 1991, pp. 27-30; pls. 209-211.
Cambitoglou, Alexander, and Jacques Chamay. Ceramique de Grande Grece. La collection de fragments Herbert A. Cahn. Exh. cat., Musee d'Art et d'Histoire, Geneva, March 26-September 7, 1997. Zurich: 1997, p. 8.
Furley, William D. and Jan Maarten Bremer. Greek Hymns, vol. 1 (Tubingen, 2001), p. V, fig. 1.
Thorn, Jed and Michael Glascock. "New Evidence for Apulian Red-Figure Production Centres." Archaeometry 52: 777-795 (October 2010), p. 792, no. 21.
Bremmer, Jan and Erskine, Andrew. The Gods of Ancient Greece: Identities and Transformations (Edinburgh, Edinburgh University Press, 2010), cover, cover image.
Education Resource

Subjects

Grades

Format

Ancient Greek & Roman Talk Show

Lesson in which students research and study artworks that depict Greek and Roman deities and present a mock TV talk show with the deities.

Visual Arts; English–Language Arts; History–Social Science

6-8; 9-12

Three/Five-Part Lesson
---