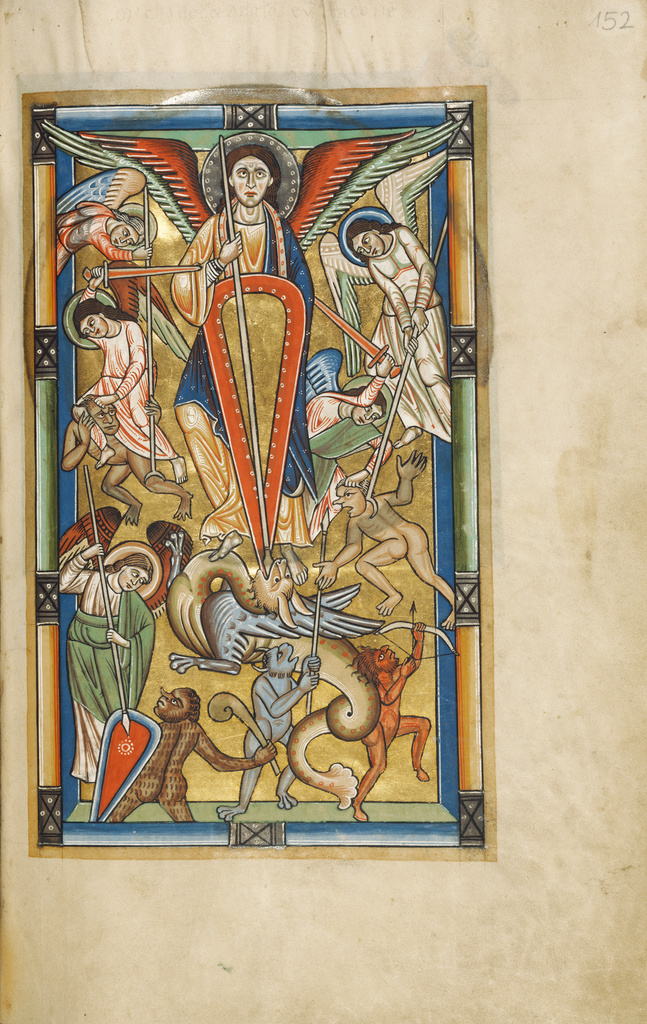 Open Content images tend to be large in file-size. To avoid potential data charges from your carrier, we recommend making sure your device is connected to a Wi-Fi network before downloading.
Title:
Saint Michael Battling the Dragon
Place:
Hildesheim, Germany (Place created)

Medium:
Tempera colors, gold leaf, silver leaf, and ink on parchment
Dimensions:
Leaf: 28.2 x 18.9 cm (11 1/8 x 7 7/16 in.)
Saint Michael the archangel stands upon a dragon with his spear and shield jammed into the beast's open mouth. Around him, other angels fight demons in the final battle before the Second Coming of the Messiah, for which Saint Michael would return to earth. This full-page miniature introduces the Mass celebrated on his feast day, an important one in this missal since Michael was the patron saint of the church for which it was made.
Weltkunst aus Privatbesitz (May 18 to August 4, 1968)
Kunsthalle Köln (Cologne), May 18 to August 4, 1968
Medieval Beasts (May 1 to July 29, 2007)
The J. Paul Getty Museum at the Getty Center (Los Angeles), May 1 to July 29, 2007
German and Central European Manuscript Illumination (February 24 to May 24, 2009)
The J. Paul Getty Museum at the Getty Center (Los Angeles), February 24 to May 24, 2009
---