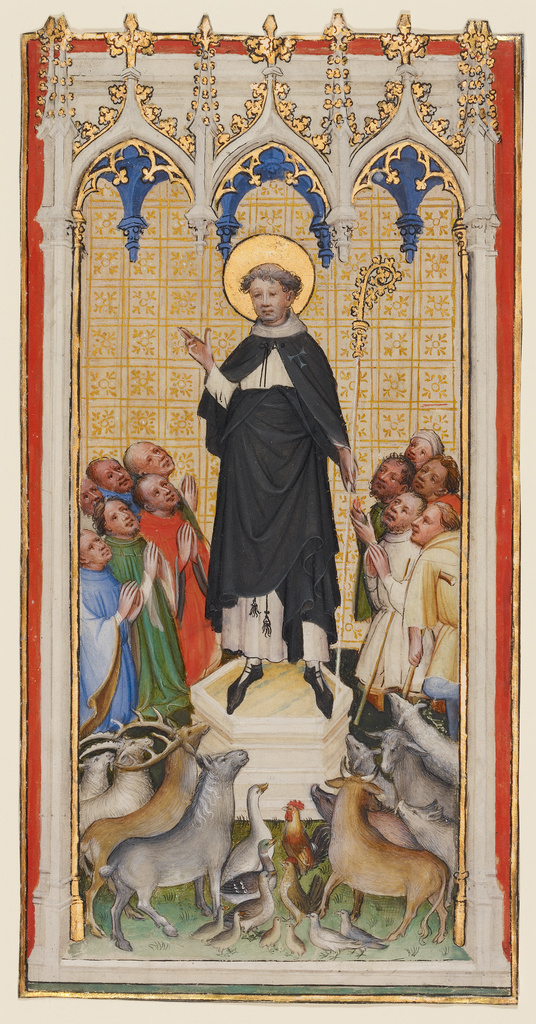 This image is available for download, without charge, under the Getty's Open Content Program.

Saint Anthony Abbot Blessing the Animals, the Poor, and the Sick

Master of St. Veronica (German, active about 1395 - 1415) Leaf: 23.7 x 12.4 cm (9 5/16 x 4 7/8 in.) Ms. Ludwig Folia 2, leaf 2
Open Content images tend to be large in file-size. To avoid potential data charges from your carrier, we recommend making sure your device is connected to a Wi-Fi network before downloading.
Title:
Saint Anthony Abbot Blessing the Animals, the Poor, and the Sick
Place:
Cologne, Germany (Place created)

Medium:
Tempera colors, gold paint, and gold leaf on parchment
Dimensions:
Leaf: 23.7 x 12.4 cm (9 5/16 x 4 7/8 in.)
On a pedestal beneath Gothic arches, Saint Anthony stands like a living statue, blessing the people and animals gathered around him. On the right, several men carrying crutches have come to be healed, while a menagerie of animals in front looks up to Anthony as if listening to his words.

Saint Anthony, a hermit of the 300s, renounced his worldly goods and retired to the desert of northern Egypt. In the 1100s, the Order of Knights Hospitallers, an organization that cared for the sick across Europe, adopted him as its patron saint. Although Saint Anthony was a desert hermit, he appears here wearing the black cape with the tau cross on the left shoulder worn by the Hospitallers of the 1400s. Growing out of his association with the Hospitallers, Anthony was called on to prevent and cure disease in both people and animals, which explains the assortment of followers around him.

The miniature was painted by the anonymous artist known as the Master of Saint Veronica in the International style, which is characterized by bright jewel-like colors, detailed elaborate costumes, linearity, and melancholic expressions. The animals' naturalism demonstrates the artist's interest in the careful observation of nature.
Medieval and Renaissance Manuscripts (July 1 to September 30, 1984)
The J. Paul Getty Museum (Malibu), July 1 to September 30, 1984
German Illuminated Manuscripts (October 23, 1985 to January 5, 1986)
The J. Paul Getty Museum (Malibu), October 23, 1985 to January 5, 1986
The International Gothic Style (January 17 to April 1, 1989)
The J. Paul Getty Museum (Malibu), January 17 to April 1, 1989
Illuminated German and Central European Manuscripts (October 17 to December 31, 1989)
The J. Paul Getty Museum (Malibu), October 17 to December 31, 1989
Ludwigslust: Die Sammlung Irene und Peter Ludwig (June 19 to October 10, 1993)
Germanisches Nationalmuseum (Nuremberg), June 19 to October 10, 1993
The Cult of Saints in the Middle Ages and Renaissance (October 26, 1993 to January 9, 1994)
The J. Paul Getty Museum (Malibu), October 26, 1993 to January 9, 1994
The International Style: Courtly Art Around the Year 1400 (October 24, 1994 to January 8, 1995)
The J. Paul Getty Museum (Malibu), October 25, 1994 to January 8, 1995
Masterpieces of Medieval and Renaissance Manuscript illumination (December 16, 1997 to March 22, 1998)
The J. Paul Getty Museum at the Getty Center (Los Angeles), December 16, 1997 to March 22, 1998
Ten Centuries of Manuscript Illumination in Germany and Central Europe (July 21 to October 18, 1998)
The J. Paul Getty Museum at the Getty Center (Los Angeles), July 21 to October 18, 1998
A Treasury of Fifteenth Century Manuscript Illumination (March 26 to June 16, 2002)
The J. Paul Getty Museum at the Getty Center (Los Angeles), March 26 to June 16, 2002
Five Hundred Years of Manuscript Illumination (February 11 to June 1, 2003)
The J. Paul Getty Museum at the Getty Center (Los Angeles), February 11 to June 1, 2003
Fit for a King: Courtly Manuscripts, 1380-1450 (June 29 to August 29, 2004)
The J. Paul Getty Museum at the Getty Center (Los Angeles), June 29 to September 5, 2004
The Cult of Saints (April 25 to July 16, 2006)
The J. Paul Getty Museum at the Getty Center (Los Angeles), April 25 to July 16, 2006
Medieval Beasts (May 1 to July 29, 2007)
The J. Paul Getty Museum at the Getty Center (Los Angeles), May 1 to July 29, 2007
---