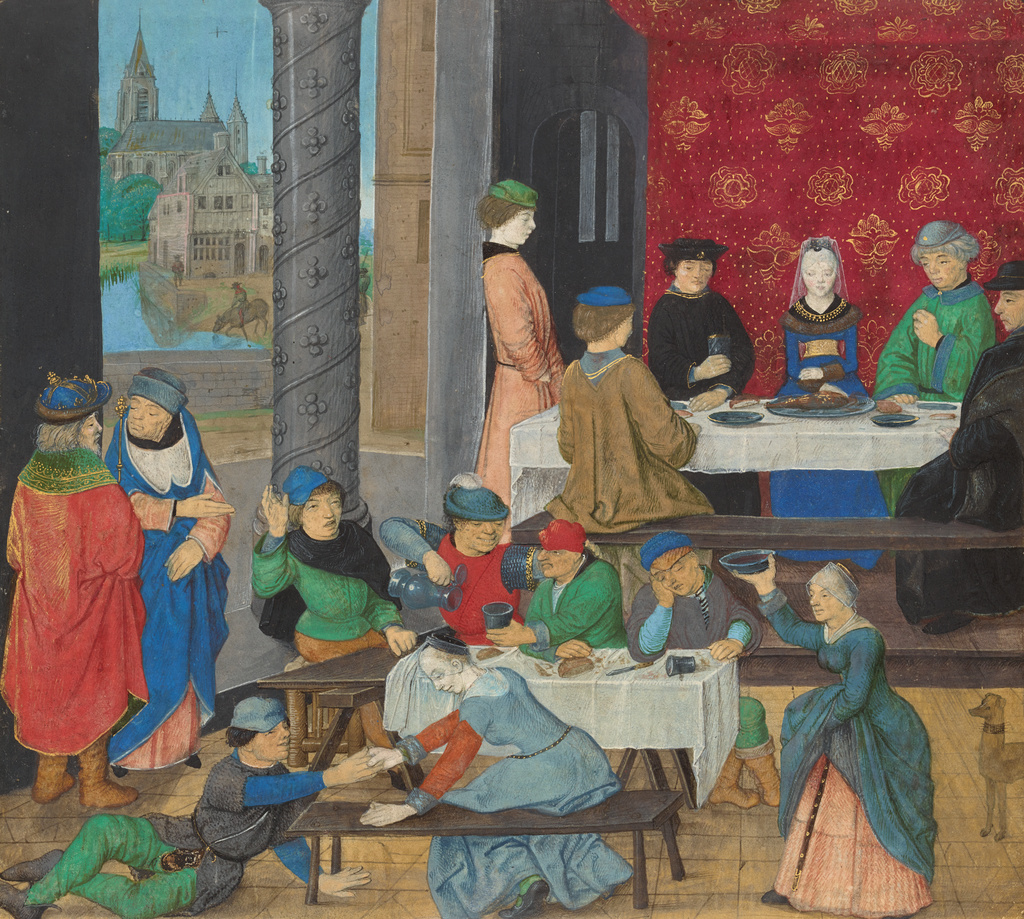 Open Content images tend to be large in file-size. To avoid potential data charges from your carrier, we recommend making sure your device is connected to a Wi-Fi network before downloading.
This image is available for download, without charge, under the Getty's Open Content Program.
Currently on view at: Getty Center, Museum North Pavilion, Gallery N105
Title:
The Temperate and the Intemperate
Place(s):
Bruges, Belgium (Place created)
Medium:
Tempera colors and ink on parchment
Dimensions:
Leaf: 17.5 x 19.4 cm (6 7/8 x 7 5/8 in.)
The Memorable Deeds and Sayings of the Romans, a compilation of stories about ancient customs and heroes written in the first century A.D. by Valerius Maximus, was widely used in the Middle Ages as a textbook for rhetoric. The museum's cutting comes from a French translation of the original Latin text made for Jan Crabbe, abbot of the Cistercian Abbey at Duinen, south of Bruges.

This large miniature appeared at the beginning of book two, Concerning Morals and Customs. In a spacious dining hall, Valerius, dressed in blue on the left, instructs the Emperor Tiberius, to whom he dedicated his book, on the value of temperance. Valerius points out the joyous and intemperate peasants at the front table, who cavort wildly, drink, fall down, and sleep. In contrast, the nobles in the back are models of temperance: evenly spaced at the orderly table, their bodies rigid, they eat with great sobriety. Through this contrast the illuminator suggested that nobles are inherently more temperate, an interpretation that does not derive from the text. Yet in the hands of the witty Master of the Dresden Prayer Book, the bad example of the pleasure-loving peasants is easily the more endearing one.
Canada Collects: European paintings 1860-1960 (January 19 to February 21, 1960)
Musée des beaux-arts de Montréal, January 19 to February 21, 1960
Manuscripts and Americans: An Exhibition in Honor of Franklin D. Murphy (July 21 to October 18, 1992)
The J. Paul Getty Museum, (Malibu), July 21 to October 18, 1992
Illuminating the Past: Historical Texts of the Middle Ages and Renaissance (February 2 to April 11, 1993)
The J. Paul Getty Museum, (Malibu), February 2 to April 11, 1993
Illuminated Secular Manuscripts (January 24 to April 9, 1995)
The J. Paul Getty Museum, (Malibu), January 24 to April 9, 1995
Illuminating the Mind's Eye: Memory and Medieval Book Arts (July 23 to October 6, 1996)
The J. Paul Getty Museum, (Malibu), July 23 to October 6, 1996
Masterpieces of Medieval and Renaissance Manuscript illumination (December 16, 1997 to March 22, 1998)
The J. Paul Getty Museum at the Getty Center, (Los Angeles), December 16, 1997 to March 22, 1998
Flemish Illumination of the Late Middle Ages (November 3, 1998 to January 17, 1999)
The J. Paul Getty Museum at the Getty Center, (Los Angeles), November 3, 1998 to January 17, 1999
A Treasury of Fifteenth Century Manuscript Illumination (March 26 to June 16, 2002)
The J. Paul Getty Museum at the Getty Center, (Los Angeles), March 26 to June 16, 2002
Cloistered world, Open books (August 16 to November 17, 2002)
Grootseminarie, (Bruges), August 16 to November 17, 2002
Illuminating the Renaissance: The Triumph of Flemish Manuscript Painting in Europe (June 17, 2003 to February 22, 2004)
The J. Paul Getty Museum at the Getty Center, (Los Angeles), June 17 to September 7, 2003
Royal Academy of Arts (London), November 29, 2003 to February 22, 2004
Shrine and Shroud: Textiles in Illuminated Manuscripts (June 28 to October 2, 2005)
The J. Paul Getty Museum at the Getty Center, (Los Angeles), June 28 to October 2, 2005
Eat, Drink, and Be Merry: Food in the Middle Ages and Renaissance (October 13, 2015 to January 3, 2016)
The J. Paul Getty Museum at the Getty Center, (Los Angeles), October 13, 2015 to January 3, 2016
Audio: The Temperate and the Intemperate
---