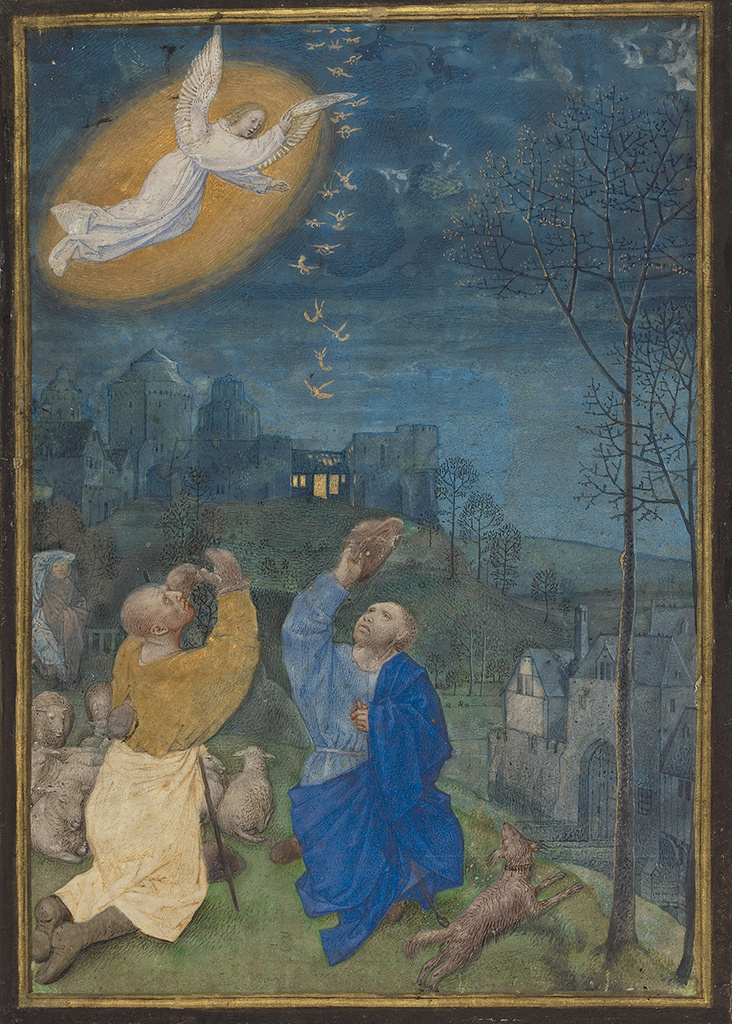 Open Content images tend to be large in file-size. To avoid potential data charges from your carrier, we recommend making sure your device is connected to a Wi-Fi network before downloading.
Not currently on view
Title:
The Annunciation to the Shepherds
Place:
Ghent (probably), Belgium (Place Created)

Medium:
Tempera colors and gold paint on parchment
Dimensions:
Leaf: 12.5 × 9 cm (4 15/16 × 3 9/16 in.)
Object Description
Illuminated by the bright light of a graceful angel above, shepherds in the fields outside Bethlehem shield their eyes as they kneel in homage. The angel announces the birth of Jesus, but the impassive faces of the peasants show that they do not yet grasp the importance of the message. Using a muted palette of blues and gold, the Master of the Houghton Miniatures evoked the stillness and beauty of a nocturnal landscape. The scene is lit only by the glow of the angel high in the sky, by a diminutive ballet of gilded angels gliding down toward the manger in the stable beyond, and by the light within the stable itself. In this miniature the shepherds have the coarse and rugged features of the peasants seen in paintings by the Flemish artist Hugo van der Goes. Their richly modeled and precisely contoured faces have no equal in Flemish manuscript illumination. The artist's achievement in naturalism is all the more remarkable considering the very small format of the miniature. The miniature probably came from an elaborate illuminated book of hours that is now in the Houghton Library at Harvard University in Cambridge, Massachusetts.
Exhibitions
Masterpieces of Medieval and Renaissance Manuscript illumination (December 16, 1997 to March 22, 1998)
The J. Paul Getty Museum at the Getty Center (Los Angeles), December 16, 1997 to March 22, 1998
Flemish Illumination of the Late Middle Ages (November 3, 1998 to January 17, 1999)
The J. Paul Getty Museum at the Getty Center (Los Angeles), November 3, 1998 to January 17, 1999
Illuminating the Renaissance: The Triumph of Flemish Manuscript Painting in Europe (June 17, 2003 to February 22, 2004)
The J. Paul Getty Museum at the Getty Center (Los Angeles), June 17 to September 7, 2003
Royal Academy of Arts (London), November 29, 2003 to February 22, 2004
A Masterpiece Reconstructed: The Hours of Louis XII (October 18, 2005 to May 1, 2006)
The J. Paul Getty Museum at the Getty Center (Los Angeles), October 18, 2005 to January 8, 2006
Landscape in the Renaissance (August 1 to October 15, 2006)
The J. Paul Getty Museum at the Getty Center (Los Angeles), August 1 to October 15, 2006
Radiant Darkness: The Art of Nocturnal Light (April 24 to July 22, 2007)
The J. Paul Getty Museum at the Getty Center (Los Angeles), April 24 to July 22, 2007
Illuminated Manuscripts from Belgium and the Netherlands (August 24, 2010 to February 6, 2011)
The J. Paul Getty Museum at the Getty Center (Los Angeles), August 24, 2010 to February 6, 2011
Sacred Landscapes: Nature in Renaissance Manuscripts (October 10, 2017 to January 7, 2018)
The J. Paul Getty Museum at the Getty Center (Los Angeles), October 10, 2017 to January 7, 2018
---