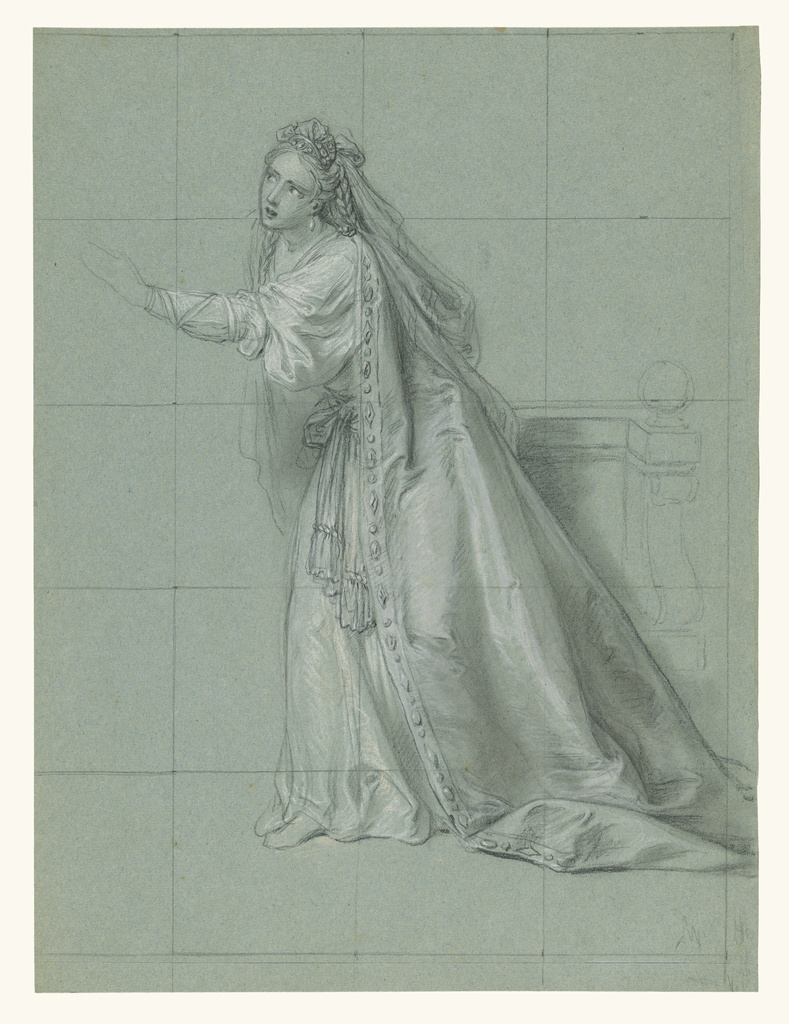 Study of a Woman (Rodugune) Turned toward the Left

Charles-Antoine Coypel (French, 1694 - 1752) 43.8 x 32.9 cm (17 1/4 x 12 15/16 in.) 97.GB.32
Not currently on view
Title:
Study of a Woman (Rodugune) Turned toward the Left
Medium:
Black and white chalk on blue-gray paper; squared in black chalk
Dimensions:
43.8 x 32.9 cm (17 1/4 x 12 15/16 in.)
Upon seeing her mother Cleopatra beginning to collapse from poisoning, Rodugune starts up from her throne. Her troubled, histrionic expression recreates the high drama of Pierre Corneille's most successful tragedy Rodugune, from which the dramatist and painter Charles-Antoine Coypel took this subject. Drawing from a live model who may have worn the full costume in his studio, Coypel concentrated on suggesting sudden movement and capturing the play of light on the princess's elaborate dress. He created the sense of a shimmering, luxurious fabric using his characteristic, soft handling of black and white chalk.

Coypel made this drawing as a preliminary study for a cartoon for a tapestry to be woven by the Gobelins Manufactory. The squaring indicates that the design for this single figure was transferred to the larger composition of the cartoon and to an oil modello.
-
Private Collection (France)
Carmontelle's Transparency: An 18th Century Motion Picture (2000) (March 14 to May 28, 2000)
The J. Paul Getty Museum at the Getty Center (Los Angeles), March 14 to May 28, 2000
French Drawings from the Age of Greuze (September 10 to December 1, 2002)
The J. Paul Getty Museum at the Getty Center (Los Angeles), September 10 to December 1, 2002
Carmontelle's Transparency: An 18th Century Motion Picture (March 14 to June 18, 2006)
The J. Paul Getty Museum at the Getty Center (Los Angeles), March 14 to June 18, 2006
---