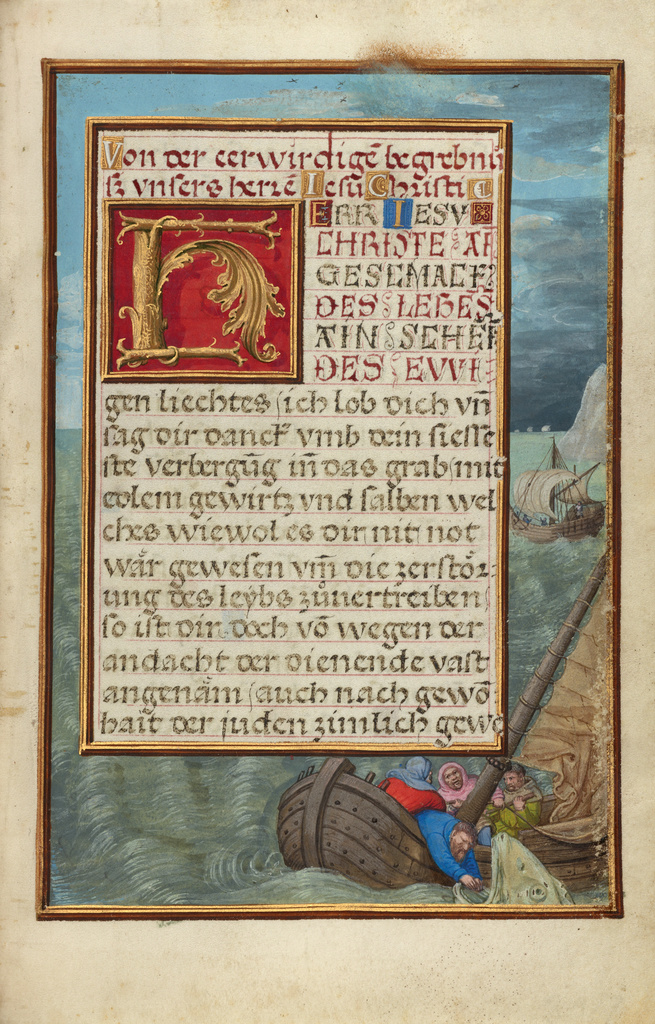 Border with Jonah Cast into the Sea

Simon Bening (Flemish, about 1483 - 1561) Leaf: 16.8 x 11.4 cm (6 5/8 x 4 1/2 in.) Ms. Ludwig IX 19, fol. 329
Open Content images tend to be large in file-size. To avoid potential data charges from your carrier, we recommend making sure your device is connected to a Wi-Fi network before downloading.
This image is available for download, without charge, under the Getty's Open Content Program.
null
Title:
Border with Jonah Cast into the Sea
Place(s):
Bruges, Belgium (Place created)
Medium:
Tempera colors, gold paint, and gold leaf on parchment
Dimensions:
Leaf: 16.8 x 11.4 cm (6 5/8 x 4 1/2 in.)
Rough winds play havoc with two ships under a threatening dark sky as Jonah is pushed overboard into the gaping maw of a large fish. The sailors cast him out because they blamed him for the stormy seas. Jonah remained in the belly of the fish for three days, praying to God. On the third day, God spoke to the fish, which vomited out the poor man. Because three days separated the death and resurrection of Christ, Christians saw this story as a typological parallel to the Entombment of Christ, discussed in the text on this page and depicted in the facing miniature.
Medieval and Renaissance Manuscripts (July 1 to September 30, 1984)
The J. Paul Getty Museum, (Malibu), July 1 to September 30, 1984
From Memling to Pourbus (August 14 to October 25, 1998)
De Stedelijke Musea Van Brugge, (Bruges), August 14 to October 25, 1998
Illuminating the Renaissance: The Triumph of Flemish Manuscript Painting in Europe (June 17, 2003 to February 22, 2004)
The J. Paul Getty Museum at the Getty Center, (Los Angeles), June 17 to September 7, 2003
Royal Academy of Arts (London), November 29, 2003 to February 22, 2004
The Old Testament in Medieval Manuscript Illumination (June 1 to August 8, 2010)
The J. Paul Getty Museum at the Getty Center, (Los Angeles), June 1 to August 8, 2010
---