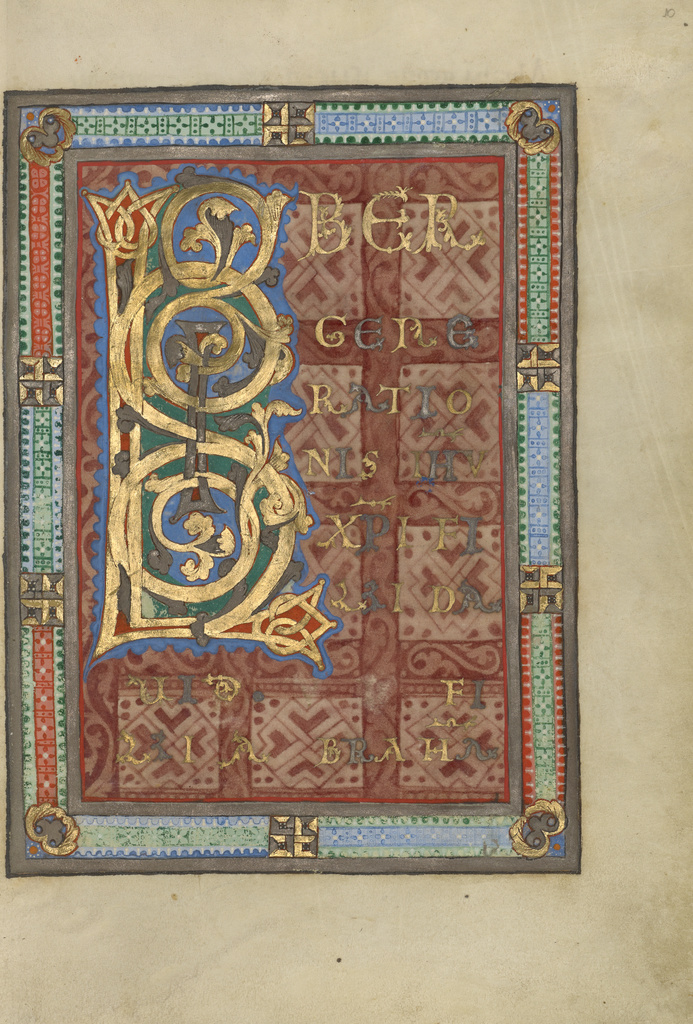 This image is available for download, without charge, under the Getty's Open Content Program.

Decorated Incipit Page
Open Content images tend to be large in file-size. To avoid potential data charges from your carrier, we recommend making sure your device is connected to a Wi-Fi network before downloading.
Not currently on view
Place:
Helmarshausen, Germany (Place Created)
Medium:
Tempera colors, gold, and silver on parchment
Object Number:
Ms. Ludwig II 3 (83.MB.67), fol. 10
Dimensions:
Leaf: 22.9 × 16.5 cm (9 × 6 1/2 in.)
Object Description
Medieval artists often elaborately decorated the incipit, or opening words, of a text. This page opens the Gospel of Saint Matthew with the text Liber generationis ih[es]u xp[ist]i filii David filii Abraha[m] (The book of the generation of Jesus Christ, the son of David, the son of Abraham). The Latin word xpisti,for Christ, is presented as an abbreviation including the Greek letters X (chi) and P(rho), as was common in medieval manuscripts. A large letter L constructed of interlaced and spiraling vines of gold leaf appears within the frame composed of intricate design. The following letter, I, in silver, is embedded within the golden vines; the final three letters of the first word, BER, appear in gold at the top right, where the shapes of the letters sometimes give way to fluttering leaf forms. This mix of organic and geometric forms imbues the page with energy. The artist wrote the remaining words of the text in letters of alternating gold and silver leaf against a patterned background of burgundy. This background imitates the appearance of expensive silks from Byzantium that Western Europeans admired and coveted in the Middle Ages. Byzantine silks were frequently used to cover highly valued manuscripts such as this Gospel book.
Exhibitions
Medieval and Renaissance Manuscripts (July 1 to September 30, 1984)
The J. Paul Getty Museum (Malibu), July 1 to September 30, 1984
Monasteries and Manuscripts (April 21 to July 5, 1987)
The J. Paul Getty Museum (Malibu), April 21 to July 5, 1987
Early Medieval and Romanesque Manuscripts (January 19 to April 3, 1988)
The J. Paul Getty Museum (Malibu), January 19 to April 3, 1988
Illuminated German and Central European Manuscripts (October 17 to December 31, 1989)
The J. Paul Getty Museum (Malibu), October 17 to December 31, 1989
The Art of the Written Word: Medieval and Renaissance Calligraphy in Illuminated Manuscripts (January 16 to April 1, 1990)
The J. Paul Getty Museum (Malibu), January 16 to April 1, 1990
Monasteries and Manuscripts (July 16 to September 29, 1991)
The J. Paul Getty Museum (Malibu), July 16 to September 29, 1991
Ludwigslust: Die Sammlung Irene und Peter Ludwig (June 19 to October 10, 1993)
Germanisches Nationalmuseum (Nuremberg), June 19 to October 10, 1993
Masterpieces of Medieval and Renaissance Manuscript illumination (December 16, 1997 to March 22, 1998)
The J. Paul Getty Museum at the Getty Center (Los Angeles), December 16, 1997 to March 22, 1998
Illuminating Color (May 22 to August 26, 2001)
The J. Paul Getty Museum at the Getty Center (Los Angeles), May 22 to August 26, 2001
Byzantium and the West (September 14 to December 5, 2004)
The J. Paul Getty Museum at the Getty Center (Los Angeles), September 14 to December 5, 2004
Traversing the Globe through Illuminated Manuscripts (January 22 to June 26, 2016)
The J. Paul Getty Museum at the Getty Center (Los Angeles), January 22 to June 26, 2016
---