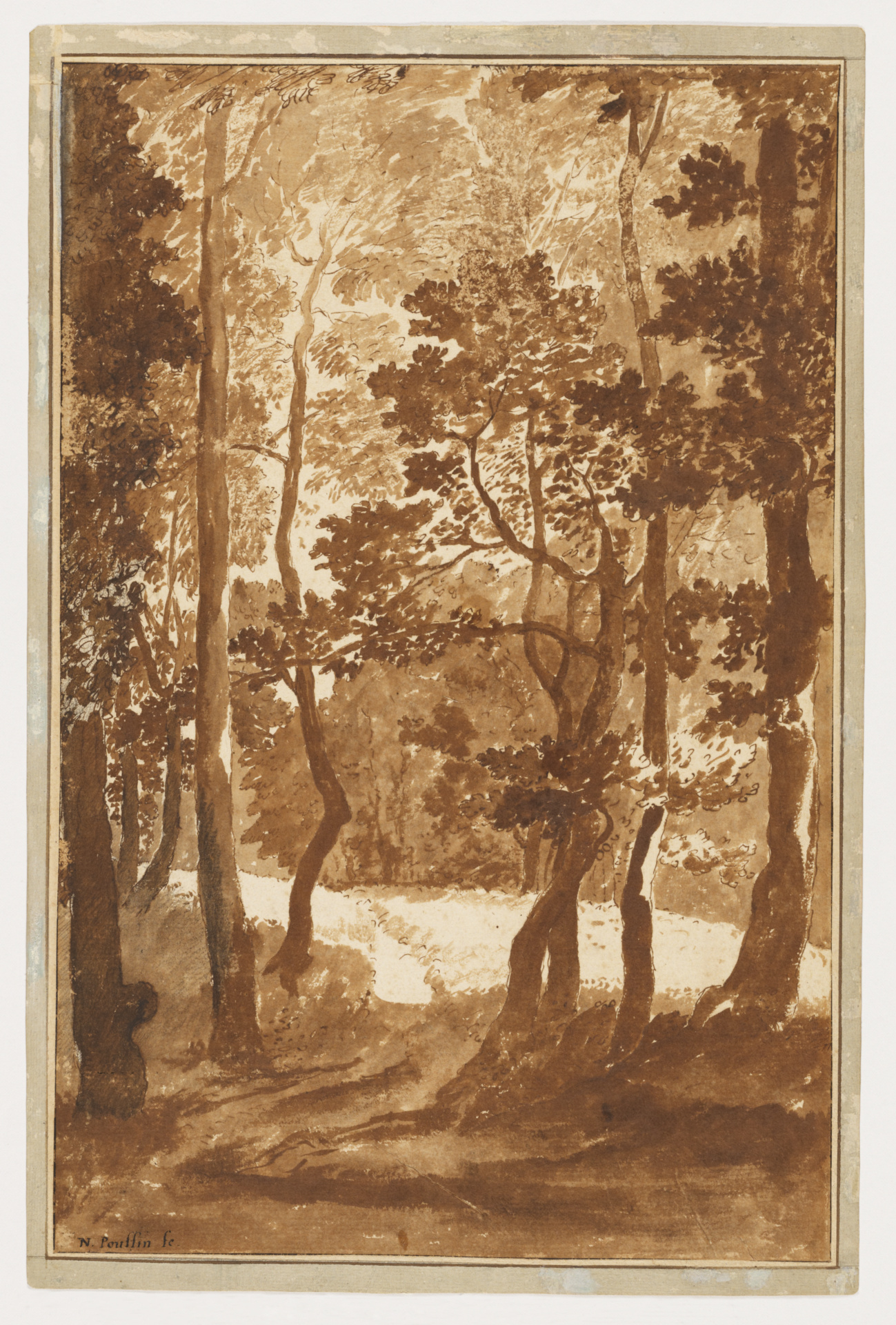 A Path Leading into a Forest Clearing

Nicolas Poussin (French, 1594 - 1665) 38.6 x 24.6 cm (15 3/16 x 9 11/16 in.) 96.GA.24
Not currently on view
Title:
A Path Leading into a Forest Clearing
Medium:
Pen and brown ink and brown wash
Dimensions:
38.6 x 24.6 cm (15 3/16 x 9 11/16 in.)
Nicolas Poussin is primarily known as a painter of history subjects, but he was also an accomplished landscapist. He probably made this drawing for its own sake, rather than as a study for a painting.

Poussin probably made this view on the spot. He captured the atmosphere of a wooded path opening onto a grassy clearing, with sunlight streaming through a thicket of trees. With vivid touches of his pen and brush, he skillfully suggested the deep shadows on the trunks of the trees and the sunlight penetrating their foliage.
-
Madame Jacqueline Strölin, Lausanne
Master Drawings from the J. Paul Getty Museum (December 16, 1997 to February 22, 1998)
The J. Paul Getty Museum at the Getty Center (Los Angeles), December 16, 1997 to February 22, 1998
Landscape Drawings 1500 - 1900 (June 9 to August 23, 1998)
The J. Paul Getty Museum at the Getty Center (Los Angeles), June 9 to August 23, 1998
Visions of Grandeur: Drawing in the Baroque Age (June 1 to September 12, 2004)
The J. Paul Getty Museum at the Getty Center (Los Angeles), June 1 to September 12, 2004
Poussin and Nature (October 8, 2007 to May 11, 2008) (79)
Museo de Bellas Artes de Bilbao, October 8, 2007 to January 13, 2008
The Metropolitan Museum of Art (New York), February 12 to May 11, 2008
Capturing Nature's Beauty: Three Centuries of French Landscapes (July 28 to November 1, 2009)
The J. Paul Getty Museum at the Getty Center (Los Angeles), July 28 to November 1, 2009
The Poetry of Paper (July 23 to October 20, 2013)
The J. Paul Getty Museum at the Getty Center (Los Angeles), July 23 to October 20, 2013
---