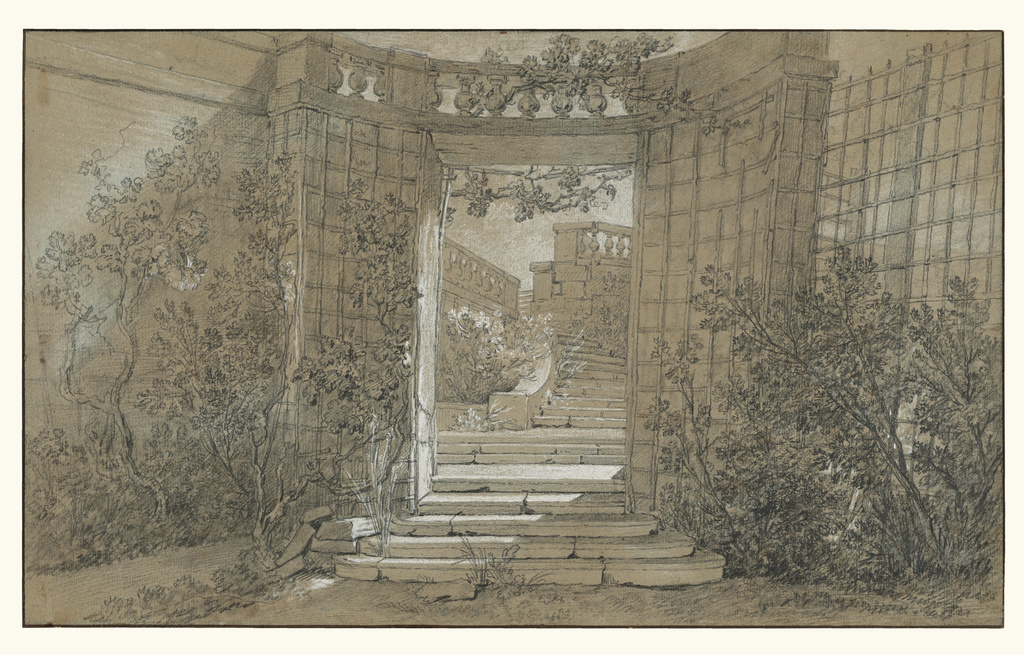 Open Content images tend to be large in file-size. To avoid potential data charges from your carrier, we recommend making sure your device is connected to a Wi-Fi network before downloading.
Not currently on view
Title:
Landscape with a Staircase and a Balustrade
Medium:
Black and white chalk on faded blue paper
Dimensions:
32.1 × 52.4 cm (12 5/8 × 20 5/8 in.)
In the foreground, weeds grow without restraint, and unpruned trees and shrubs creep upward on the broken trellis. At the center of the composition, light falls through the arch and onto the dilapidated steps. Through the arch, a stairway overtaken with vegetation leads upward, disappearing into the background. At the bottom of the stairs, a loose stack of stones topples to its side. This neglected and forgotten garden imparts a melancholy sense of loss and decay. In this view of an overgrown, abandoned garden, Jean-Baptiste Oudry conveyed his mastery of chiaroscuro. This drawing is one in a large series of over one hundred studies that Oudry made between 1744 and 1747 of the abandoned gardens of the Prince de Guise's château at Arceuil, France.
-
Private Collection (France)
June 18, 1991
Ader Picard Tajan, Hotel Drouot, lot 67
-
Private Collection (Paris)
Master Drawings from the J. Paul Getty Museum (December 16, 1997 to February 22, 1998)
The J. Paul Getty Museum at the Getty Center (Los Angeles), December 16, 1997 to February 22, 1998
French Drawings from the Age of Greuze (September 10 to December 1, 2002)
The J. Paul Getty Museum at the Getty Center (Los Angeles), September 10 to December 1, 2002
Carmontelle's Transparency: An 18th Century Motion Picture (March 14 to June 18, 2006)
The J. Paul Getty Museum at the Getty Center (Los Angeles), March 14 to June 18, 2006
Capturing Nature's Beauty: Three Centuries of French Landscapes (July 28 to November 1, 2009)
The J. Paul Getty Museum at the Getty Center (Los Angeles), July 28 to November 1, 2009
Rococo to Revolution: Eighteenth-Century French Drawings from Los Angeles Collections (July 1 to September 21, 2014)
The J. Paul Getty Museum at the Getty Center (Los Angeles), July 1 to September 21, 2014
---