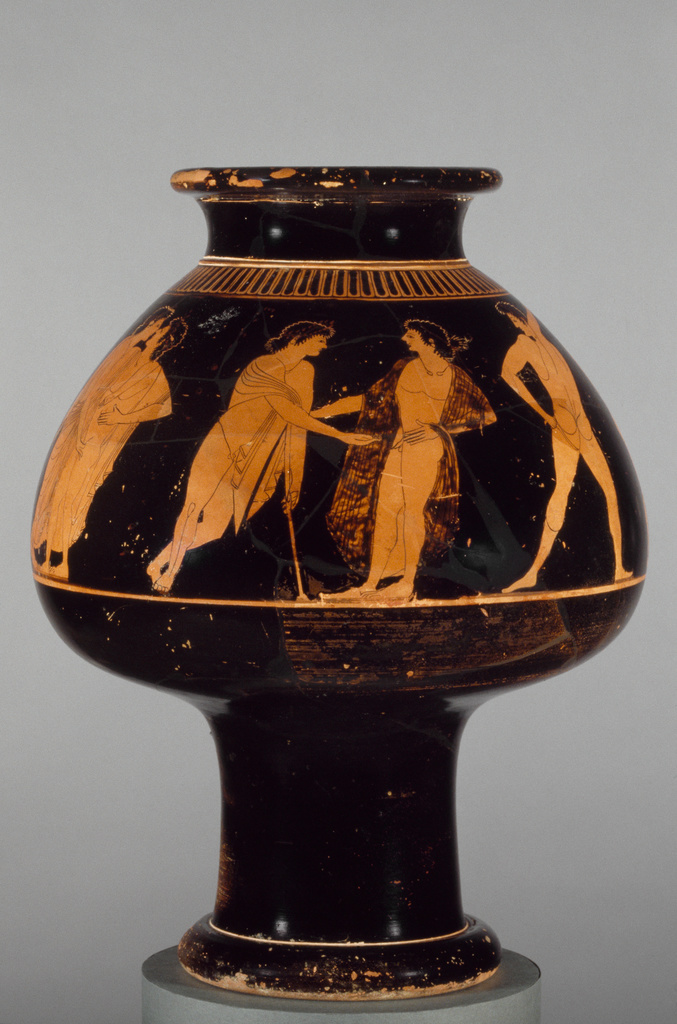 This image is available for download, without charge, under the Getty's Open Content Program.

Attic Red-Figure Psykter

Smikros 33 × 25.5 cm (13 × 10 1/16 in.) 82.AE.53
Open Content images tend to be large in file-size. To avoid potential data charges from your carrier, we recommend making sure your device is connected to a Wi-Fi network before downloading.
Currently on view at: Getty Villa, Gallery 104, Archaic & Classical Greek
Place:
Athens, Greece (Place created)

Dimensions:
33 × 25.5 cm (13 × 10 1/16 in.)
The psykter is a vessel used for cooling wine at a symposium. Placed in a large bowl of ice-cold water, the bulbous upper section - decorated here with youths in the gymnasium - would be visible to drinkers. Many of the figures on this vase are identified with inscriptions. One nude youth ('Ambrosios') seen from behind scrapes his body with a strigil. To the right, a youth with his hair tied up in a bun folds a mantle ('Euythdikos'). Around the rest of the vase are four pairs of courting couples. One draped youth holding a hand to his head ('Melas') leans on his staff, looking at a heavily draped boy who walks to the right, holding a lyre and looking back ('Antias'). Another draped youth ('Euphronios') leans on his staff as he reaches for the chin of the boy facing him ('Leagros kalos'). A draped youth embraces another, fondling his genitals and about to kiss (both are un-named). The final pair features a lightly draped youth leaning on his staff ('Hegerthos kalos'), gesturing towards a boy wearing a purple mantle and with his hair in a bun ('Andriskos'). All of the figures are wreathed, save the two with their hair tied up. Many of the inscribed names recur on other contemporary Athenian vases, notably Leagros, who is often described as 'kalos' ('fine'). Yet Euphronios, named here, is the name of a vase-painter, and it is surprising to see a craftsman attempting to seduce one of the most sought-after noble youths in Athens. Scholars have suggested that this scene is a fantasy - perhaps humorous - on the part of the psykter's painter.
by 1972 - 1982
Nicolas Koutoulakis, 1910 - 1996, donated to the J. Paul Getty Museum, 1982.
Mostro sul ceramografo Euphronios (May 1 to October 1, 1990)
Museo Archeologico Nazionale Mecenate (Arezzo), May 1 to July 1, 1990
Musée du Louvre (Paris), August 1 to October 1, 1990
Athletes in Antiquity: Works from the Collection of the J. Paul Getty Museum (February 1 to April 15, 2002)
Utah Museum of Fine Arts (Salt Lake City), February 1 to April 15, 2002
Klein, Robert. Early Attic Red Figure Psykters: Their Use and Painted Themes (unpublished senior essay). New Haven: Yale University, 1986, pp. 32 ff., figs. 45-32.
Euphronios. Peintre a Athenes au VIe siecle avant J.-C. (1990), pp. 234-37, cat. no. 60, ill.
Capolavori di Euphronios. Exh. cat., Museo Archeologico Nazionale, Arezzo, May 26-July 31, 1990, pp. 192-93, no. 43.
Immerwahr, Henry. Attic Script: A Survey. (Oxford: Clarendon Press, 1990), p. 69, 73, no. 407.
Goemann, E., ed. Euphronios der Maler. Staatliche Museen Preussicher Kulturbesitz, Berlin, exh. cat. Milan: 1991, pp. 250-53, no. 60, ill.
Theodorou, J., "The Vase Paintings of Euphronios", Minerva 2, 2 (1991), pp. 6-9, p. 9, ill.
Robertson, Martin. The Art of Vase Painting in Classical Athens. Cambridge: 1992, p. 26-7.
Williams, Dyfri. "Euphronios' Contemporary Companions and Followers." Euphronios Peintre (M. Denoyelle, ed.). Paris: 1992. pp. 79-95, p. 87.
Dierichs, Angelika. Erotik in der Kunst Griechenlands. Zaberns Bildbaende zur Archaeologie, vol. 9. (Mainz: von Zabern, 1993, p. 124; figs. 219a-d.
Frel, Jirí. "Euphronios and His Fellows." Ancient Greek Art and Iconography (W. G. Moon, ed.). Madison: University of Wisconsin Press, 1983. pp. 147-158, pp. 147-51; figs. 10.2-10.6.
Kilmer, Martin. "In Search of the Wild Kalos-Name," Echos du Monde Classique/Classical Views XXXVII, n.s. 12 (1993), pp. 173-199, p. 187 ff., pls. III-V.
Percy III, WIlliam Armstrong. Pederasty and Pedagogy in Archaic Greece. Chicago and Urbana: University of Illinois Press, 1996, fig. 14.
Schaefer, Alfred. Unterhaltung beim griechischen Symposion. Mainz: P. von Zabern, 1997, pl. 19.
Steiner, Deborah. "Moving Images in Fifth-Century Victory Monuments and the Athlete's Allure," Classical Antiquity 17,1 (April 1998), pp. 123-149, p. 130; fig. 2.
Schreiber, Toby. Athenian Vase Construction: A Potter's Analysis (Los Angeles: J. Paul Getty Museum, 1999), pl. XX; figs. 26.1-26.3, 26.5.
Shapiro, H.A. "Leagros and Euphronios: Painting Pederasty in Athens" in Thomas. K. Hubbard (ed). Greek Love Reconsidered (Wallace Hamilton Press: New York, 2000), pp. 25-27, figs. 13-14.
Boardman, John. The History of Greek Vases (London: Thames and Hudson, 2001), p. 149; fig. 179.
Immerwahr, Henry. R. A Corpus of Attic Vase Inscriptions. Preliminary Edition. Part VI: Supplement. 2001, no. 4959.
Grossman, Janet Burnett. Athletes in Antiquity: Works from the Collection of the J. Paul Getty Museum, exh. cat. (Salt Lake City, UT: Utah Museum of Fine Arts, 2002), pp. 22-23, no. 17.
Neer, Richard T. Style and Politics in Athenian Vase-Painting: The Craft of Democracy, ca 530-460 B.C.E. (Cambridge: 2002), pp. 100-1, fig. 46.
Scanlon, Thomas F. Eros and the Greek Athletics (Oxford: 2002), p. 237, fig. 8.6.
Shapiro, H.A. "Leagros the Satyr." In Clemente Marconi (ed.) Greek Vases. Images, Contexts and Controversies. (Brill: Leiden, Boston, 2004), p.4, no. 10.
Davidson, James. The Greeks and Greek Love (London: Orion Publishing Group, 2007), p.439-441, fig. 50, p. 474.
Lear, Andrew and Cantarella, Eva. Images of Ancient Greek Pederasty. Boys were their Gods. Routledge, New York, 2008, p. 168-70, fig. 5.3.
Athanassaki, Lucia, Richard P. Martin, and John F. Miller, eds. Apolline Politics & Poetics (Athens: European Cultural Center of Delphi, 2009), p. 629, fig. 4.
Guy Hedreen, "Iambic Caricature and Self-Representation as a Model for Understanding Internal References among Red-Figure Vase-Painters and Potters of the Pioneer Group", in Yatromanolakis, D. (ed.), An Archaeology of Representations. Ancient Greek Vase-Painting and Contemporary Methodologies (Institut du Livre-A.Kardamitsa: Athens, 2009), 200-239, p. 212-13, fig. 3.
Hedreen, Guy. "Smikros and Epilykos: Two Comic Inventions in Athenian Vase-Painting." In Athenian Potters and Painters III. John. H. Oakley, ed. Oxford: Oxbow Books, 2014, p.53, 55.
Lee, Mireille M. Body, Dress, and Identity in Ancient Greece (New York: Cambridge University Press, 2015), p. 197, fig. 6.9.
Hedreen, Guy. "Smikros: Fictional Portrait of an Artist as a Symposiast by Euphronios."In The Cup of Song: Studies on Poetry and the Symposion. Vanessa Cazzato, Dirk Obbink, and Enrico Emanuele Prodi, eds.(Oxford: Oxford University Press, 2016), p.113-39, p. 137-8; plate 4.
Hedreen, Guy. The Image of the Artist in Archaic and Classical Greece (Cambridge: Cambridge University Press, 2016), 42-46, 53. fig. 16, 18, pl. XII.
Müller, J-M., "Schöner Nonsens, Sinnloses Kalos? Ein Strukturvergleich zweier Anpassungsfähiger Inschriftenformen der Attischen Vasenmalerei." In Topfer-Maler-Schreiber. R. Wachter, ed. (Akanthus: Zurich, 2016), 117, footnote 102 (cited as AVI 4959).
Gaunt, J. "The Berlin Painter and His Potters." In The Berlin Painter and His World. exh. cat. J.M.Padgett, ed. (New Haven and London: Yale University Press, 2017), p. 88.
---