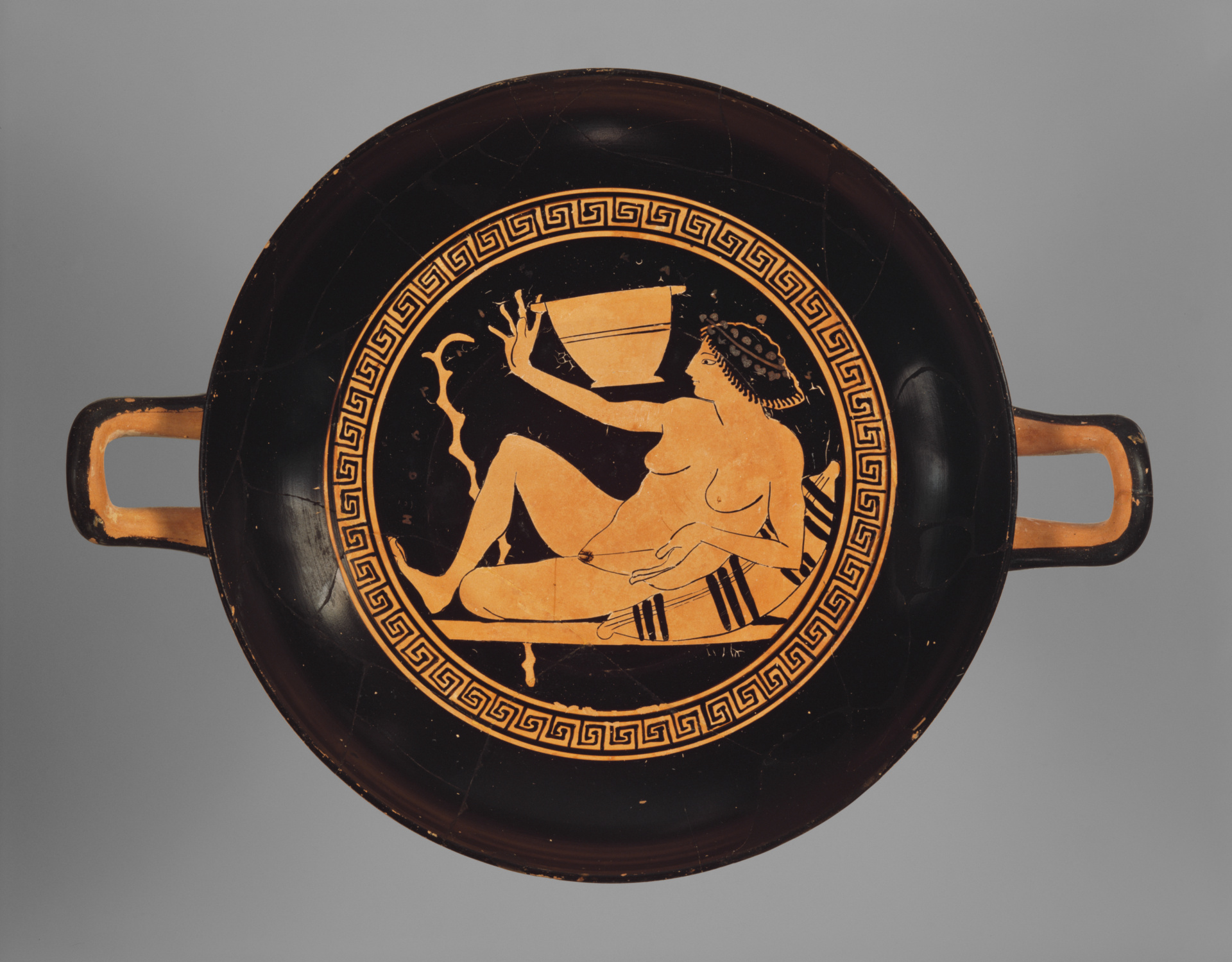 Attic Red-Figure Kylix

Attributed to Onesimos (Greek (Attic), active 500 - 480 B.C.) 8.5 x 28 cm (3 3/8 x 11 in.) 82.AE.14
Open Content images tend to be large in file-size. To avoid potential data charges from your carrier, we recommend making sure your device is connected to a Wi-Fi network before downloading.
This image is available for download, without charge, under the Getty's Open Content Program.
Currently on view at: Getty Villa, Gallery 207, Women and Children in Antiquity
Artist/Maker(s):
Attributed to Onesimos (Greek (Attic), active 500 - 480 B.C.)
Place(s):
Athens, Greece (Place created)
Dimensions:
8.5 x 28 cm (3 3/8 x 11 in.)
Scenes of nude male revelers and hetairai, or high-class prostitutes, decorate this Athenian red-figure kylix or cup. On the interior of the cup, a reclining hetaira plays kottabos, a popular drinking game at symposia, or aristocratic drinking parties. The woman slips one handle of a cup over her index finger and tries to flick the dregs from the bottom of the cup at a target some distance away.

Related scenes cover the outside of the cup. On one side, another reclining hetaira plays krotala, castanet-like instruments, while one youth offers her a large cup and another youth dances behind her. On the other side, three more youths dance.

Scenes of hetairai were a were a popular subject in Greek vase-painting, especially on vases meant to be used at a symposion. For most Athenian men, the only interaction that they would have with women outside their own family was with mistresses or hetairai, who were usually slaves or foreigners. Respectable Athenian women led a very secluded life in which the nudity and frolicking shown on this vase would have been unthinkable.
- 1982
Nicolas Koutoulakis (Geneva, Switzerland), sold to the J. Paul Getty Museum, 1982.
---