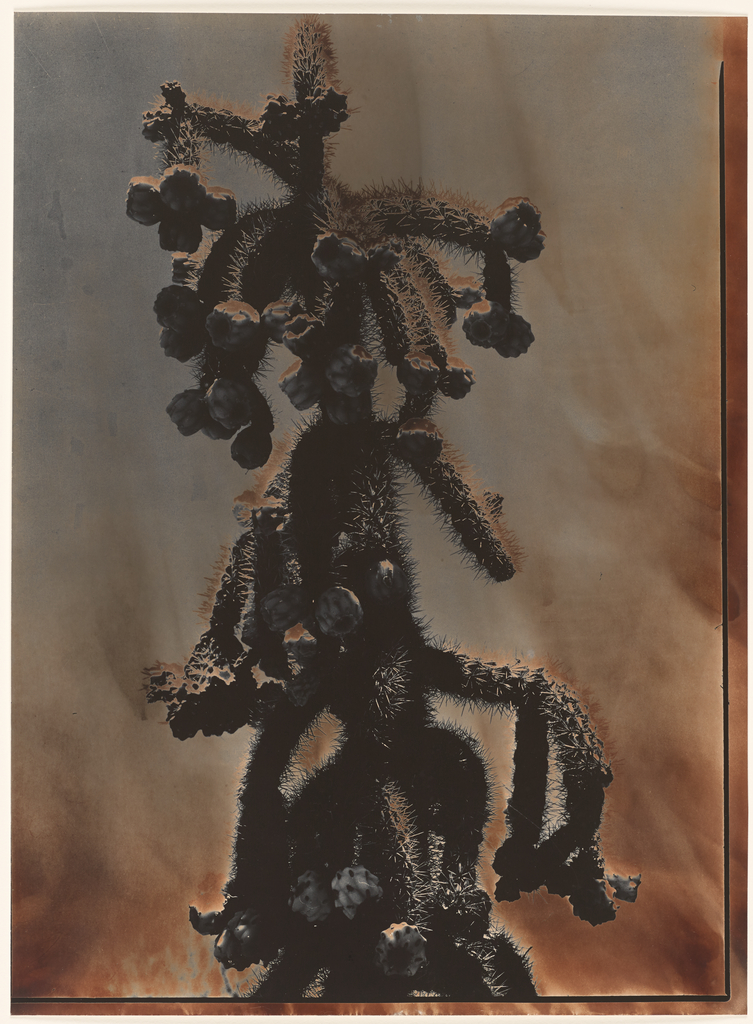 Cactus, Taliesin West, Arizona

Edmund Teske (American, 1911 - 1996) 33.8 × 24.9 cm (13 5/16 × 9 13/16 in.) 94.XM.29.2
Not currently on view
Title:
Cactus, Taliesin West, Arizona
Place:
Scottsdale, Arizona, United States (Place Created)

Date:
negative 1943; print 1960s
Medium:
Solarized gelatin silver print
Dimensions:
33.8 × 24.9 cm (13 5/16 × 9 13/16 in.)
Copyright:
© Edmund Teske Archives/Laurence Bump and Nils Vidstrand, 2001
In order to achieve results that he called "consistent with a finer feeling of emulsion as plastic pigment," Edmund Teske manipulated the photographic print in the darkroom, achieving the otherworldly effects seen here. The negative was made at Taliesin West, the Arizona studio of architect Frank Lloyd Wright, for whom Teske worked. The cholla cactus reverberates with energy. This effect was created by Teske's use of the solarization process, which causes each prickly thorn to appear electrified. Teske handled the medium of photography fluidly, experimenting with techniques that allowed him to transform an ordinary negative into an image imbued with mystical possibilities.
Spirit into Matter: The Photographs of Edmund Teske (June 15, 2004 to July 31, 2005)
The J. Paul Getty Museum at the Getty Center (Los Angeles), June 15 to September 26, 2004
The Art Institute of Chicago, May 21 to July 31, 2005
Beat Generation (June 22 to October 3, 2016)
Centre Georges Pompidou (Paris), June 22 to October 3, 2016
---