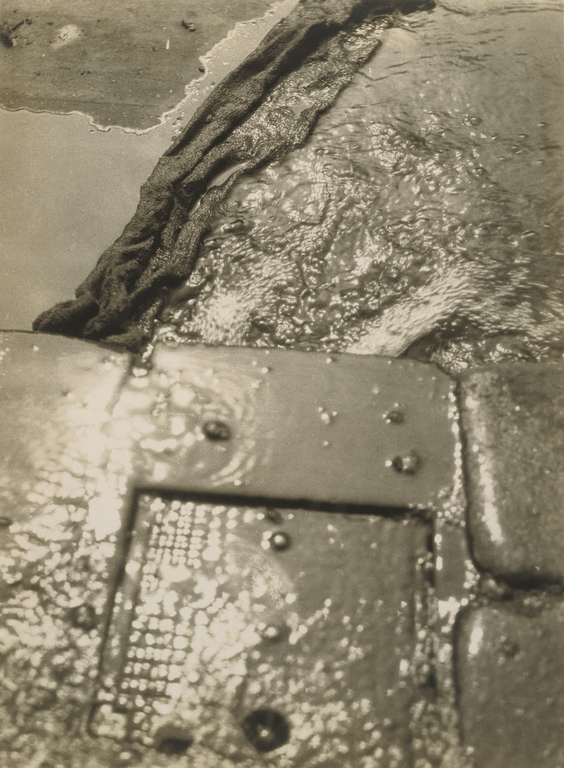 Rinnstein

László Moholy-Nagy (American, born Hungary, 1895 - 1946) 36.8 × 27.3 cm (14 1/2 × 10 3/4 in.) 94.XM.28
Not currently on view
Place:
Paris, France (Place created)

Medium:
Toned ? gelatin silver print
Dimensions:
36.8 × 27.3 cm (14 1/2 × 10 3/4 in.)
Copyright:
© 2014 Estate of László Moholy-Nagy / Artists Rights Society (ARS), New York
Here László Moholy-Nagy transformed muddy water rushing into a street drain into a study of light and texture. A strip of fabric that diverts water into the drain becomes a slashing diagonal line in the upper center, while the drain itself is transformed into a perforated rectangle reflecting light from its shimmering, soaked surface. Water seemingly flows in every direction as the layers of water and ground are compressed into a two-dimensional space.

This image was made during a summer visit to Paris, but Moholy Nagy's unique vision incorporated none of the Parisian landmarks or pictorial elements that dominated the work of most photographers in that city.
1994 -
Susan Ehrens Berkeley, CA, USA, Purchase
Vision in Motion: The Photographs of László Moholy-Nagy (June 27 to October 8, 1995)
The J. Paul Getty Museum (Malibu), June 27 to October 8, 1995
Atlas (November 23, 2010 to November 2011)
Museo Nacional Centro De Arte Reina Sofia (Madrid), November 23, 2010 to March 28, 2011
Hans Richter: Encounters (May 5, 2013 to June 30, 2014)
Los Angeles County Museum of Art (Los Angeles), May 5 to September 2, 2013
Centre Pompidou-Metz, September 29, 2013 to February 24, 2014
Martin-Gropius-Bau (Berlin), March 30 to June 30, 2014
Moholy-Nagy: Future Present (May 27, 2016 to June 18, 2017)
Solomon R. Guggenheim Museum (New York), May 27 to September 7, 2016
The Art Institute of Chicago, October 2, 2016 to January 3, 2017
Los Angeles County Museum of Art (Los Angeles), February 12 to June 18, 2017
---