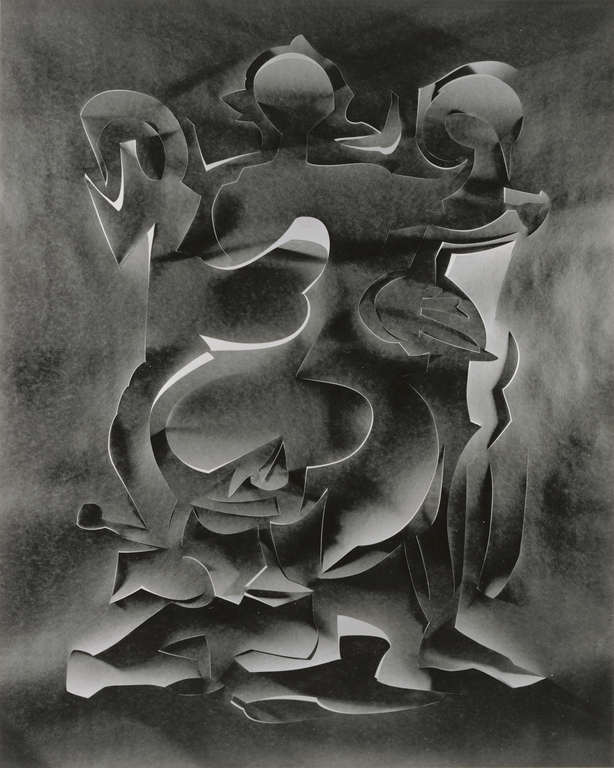 Three Graces

Frederick Sommer (American, born Italy, 1905 - 1999) 24.3 × 19.4 cm (9 9/16 × 7 5/8 in.) 94.XM.37.49
Not currently on view
Dimensions:
24.3 × 19.4 cm (9 9/16 × 7 5/8 in.)
Copyright:
© Frederick and Frances Sommer Foundation
Starting in the 1960s, Frederick Sommer produced a series of paper "sculptures" that he then photographed. He cut sheets of butcher-block paper using a razor blade, transforming them into abstract patterns. But these incisions were anything but random; his creations were often inspired by images he found in the hundreds of books he kept on shelves in his workshop. Hanging his paper creations from clips a few feet in front of a wall, he carefully lit them--the shapes, light, and shadow providing a sense of depth and kinetic energy.

The inspiration for this piece is the legend of the Three Graces, fertility goddesses from Greek mythology. Light penetrates the slits, suggesting three bodies dancing together. The composition is less about extremes of light and dark, and more about midtones--the subtle differences in grays contained in the spectrum between white and black.
1994 -
Frederick Sommer Prescott, AZ, USA, American, born Italy, 1905 - 1999
The Photographs of Frederick Sommer: A Centennial Tribute (May 10 to September 4, 2005)
The J. Paul Getty Museum at the Getty Center (Los Angeles), May 10 to September 4, 2005
Sommer, Frederick. Frederick Sommer, the Mistress of This World Has No Name, curated by E.M. Strauss; preface by Dianne Perry Vanderlip; essay by Stephen Aldrich (Denver: Denver Art Museum, 1987), p. 38.
---