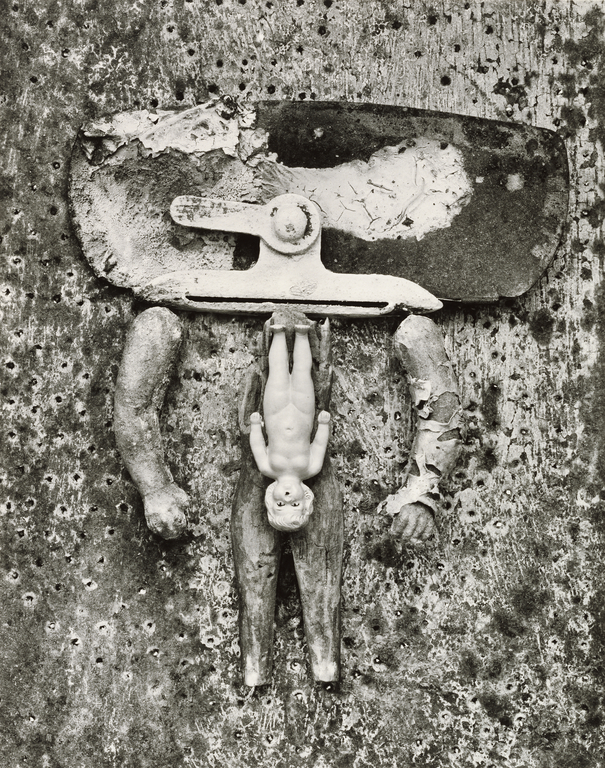 Valise d'Adam

Frederick Sommer (American, born Italy, 1905 - 1999) 24 x 18.9 cm (9 7/16 x 7 7/16 in.) 94.XM.37.25
Not currently on view
Dimensions:
24 x 18.9 cm (9 7/16 x 7 7/16 in.)
Copyright:
© Frederick and Frances Sommer Foundation
Against a backdrop of rusting metal, Frederick Sommer arranged a grouping of found objects. A clipboard clamp represents a head and shoulders while dirty, cracking doll's arms and legs provide more literal context, defining the object as a human body. Within that fragmented body, Sommer places a complete doll with its head pointed downward, as if ready to be born.

The photograph's French title, Valise d'Adam, or as Sommer translated it, Adam's Traveling Case, is a sly reference to the idea that man travels through woman into the world, and perhaps, woman even carries man through life.
1994 -
Frederick Sommer Prescott, AZ, USA, American, born Italy, 1905 - 1999
The Photographs of Frederick Sommer: A Centennial Tribute (May 10 to September 4, 2005)
The J. Paul Getty Museum at the Getty Center (Los Angeles), May 10 to September 4, 2005
Aperture, vol. 4, no. 3.
Sommer, Frederick. Venus, Jupiter & Mars: The Photographs of Frederick Sommer, edited by John Weiss, exh. cat.; cosponsored by the Department of Art, University of Delaware and the Delaware Art Museum (Wilmington, Del.: Delaware Art Museum, 1980), fig. 37.
Sommer, Frederick. Sommer: Words (v. 1)/Images (v. 2) (Tucson: Center for Creative Photography, University of Arizona, 1984), pl. 12.
Sommer, Frederick. Frederick Sommer, the Mistress of This World Has No Name, curated by E.M. Strauss; preface by Dianne Perry Vanderlip; essay by Stephen Aldrich (Denver: Denver Art Museum, 1987), p. 45.
Sommer, Frederick. All Children are Ambassadors [Alle Kinder sind Botschafter] (Munich, Germany: Nazraeli Press, 1992), pl. 25.
---