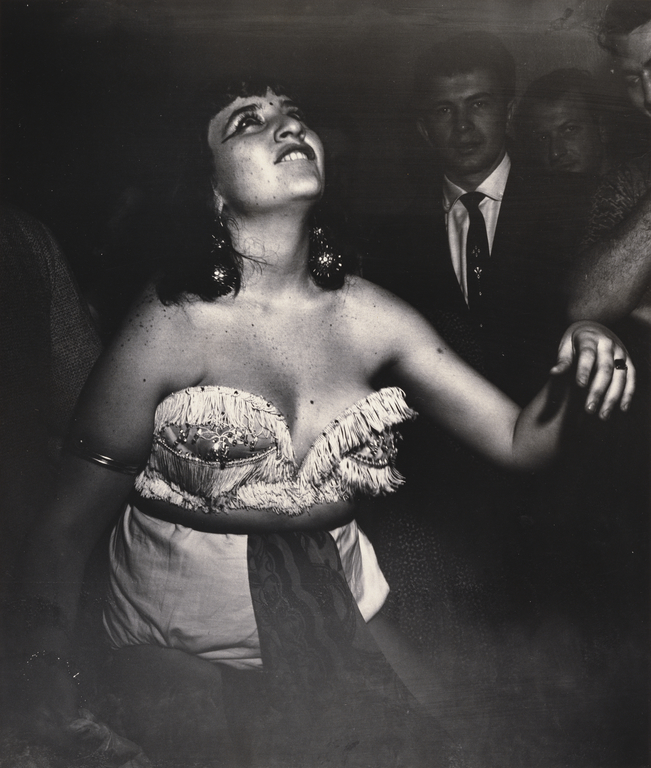 [Woman Dancing, Greenwich Village Party]

Weegee (Arthur Fellig) (American, born Austria, 1899 - 1968) 22.5 x 19.1 cm (8 7/8 x 7 1/2 in.) 94.XM.14.2
Not currently on view
Title:
[Woman Dancing, Greenwich Village Party]
Place:
New York, New York, United States (Place created)

Dimensions:
22.5 x 19.1 cm (8 7/8 x 7 1/2 in.)
Copyright:
© International Center of Photography
Weegee took candid photographs of the people he encountered in the often seamy clubs of New York. Working in these darkened places required the use of flashbulbs, which would illuminate the scene for a split second, causing intense highlights. In this portrait of a woman dancing, her face takes on a mask-like quality as the light harshly outlines her features.
-
Aurel Scheibler Cologne, Germany
Dance in Photography (February 2 to March 28, 1999)
The J. Paul Getty Museum at the Getty Center (Los Angeles), February 2 to March 28, 1999
---