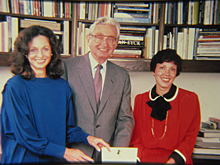 Shortly after taking the job in 1981, Harold M. Williams began what he called "a year of exploration" to assess the collective needs of the art world and conceptualize a range of new programs for the Getty.

To help him in this effort, he hired two talented individuals who had served at the National Endowments for the Arts and the Humanities: Leilani Lattin Duke and Nancy Englander. Individually and collectively these three spent much of the next year traveling throughout North America and Europe, interviewing people in the world of museums, art history, and conservation. For Williams, the driving question was "How can we be of service to the field?" As he told the Board, he was looking for ways in which the Getty, an unusual place with unusual resources, could make a significant contribution to the visual arts.

As they traveled, Williams was struck by the fact that each institution they visited favored one aspect of the visual arts over others. Universities and scholars emphasized the historical context of the work. Museums focused on the character and quality of objects. Conservation centers emphasized the science of conservation over aesthetics. Few of these institutions thought about the needs of school children and classroom teachers. Increasingly, Williams and his team perceived the need for an institution that would bring together all of these elements of the visual arts as separate and equal partners in a single institution.