Like the founders of most private foundations, J. Paul Getty chose his Board of Trustees from among his most trusted advisors and family members. In December 1953, the Board included four of his sons, his lawyer David Hecht and an art historian, W.R. Valentiner, as well as Getty himself. Valentiner served as the Museum's first director.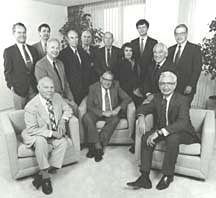 With Getty's death, the Board included six members: Harold Berg, the CEO of Getty Oil; Norris Bramlett, Getty's long-time assistant; two of Getty's sons: Ronald and Gordon; Federico Zeri, Getty's art advisor; and Stuart Peeler, a Los Angeles attorney and son of one of Getty's lawyers.

Recognizing the enormous responsibility bequeathed to them with Getty's death, the Trustees began to elect additional members. In March of 1977, J. Patrick Whaley, another local attorney associated with Getty, joined the Board. As litigation over the will began to wind down, several prominent business executives were recruited as well. John Connell and John T. Fey were elected in 1979, along with art and Museum advisor Otto Wittmann.